Archived News - History
Ron Evans has very kindly supplied the photo below of Miss Jackson's class at Eaton Bray Primary School in 1954.
Do you know the names of anyone in the photo? If you can help with more names, please leave them in the comments below or contact us directly.

Eaton Bray Primary School, Miss Jackson's Class 1954
(Back) Miss Jackson, Alan Stock, ????, Colin Goodyear, Norma Mardell, ????, Ron Evans
(3rd row) Gerald Cook, Andrew Fountain, ????, Bruce Wiseman, Daryl Burrows, Rod Ashton, Susan ??, ?? Sliney
(2nd row) ????, Shirley Horn, Diane ??, ????, Brenda Bird, Rosie Clarke, Linda ??
(Front) Sandra ??, ?? Robson, Jimmy Isherwood(?), ????
Source: Ron Evans
---
A list of names from both wars (WW1/WW2) has been reproduced from the original document hanging in St Mary's Church to an online format.
It is not known who compiled this list but there are some new names and some old ones ommited.
To view this list (with links to some Serving Soldiers' biographies), see St Mary's Church Roll of Honour in the History section of the Eaton Bray website.
---
Eaton Bray, A Century of Change
A slide show by Peter Mayne
26th October 2012
Eaton Bray Village Hall
7.30pm for 8pm start
Tickets £7.50
Don't miss this night of nostalgia as it will be the last one that Peter will be giving.
All proceeds from this event will go into the funds for the new Eaton Bray village sign.
Tickets will be available from Roebuck Garage From September 1st 2012
There will be a licenced bar, tea and coffee and light refreshments
---
Designed to commemorate the Queens Diamond Jubilee 2012, it is a shield based on the Bray family's Coat of Arms and depicts scenes from Eaton Brays past. It is topped off with a crown as a mark of respect for Her Majesty Queen Elizabeth the Second in her Diamond Jubilee year.
In the top left hand side is an image of the last Manor House in Eaton Park which was pulled down circa 1790. Before this, there had previously been a Manor House of Sir Reginald Bray that had been built on the site of the castle of William Cantelupe which stood here in 1221 surrounded by the moats.
Top right is St. Marys Parish Church, a 13th century example of Parish Church craftsmanship with magnificent arcades built with local Totternhoe stone (clunch). A 13th century font survives as does the famous Thomas-De-Leighton door hinge. A short walk back to the church you will find a brief history and guide book on sale and your chance to bide-a-while in this historic place of worship.
Centre is the War Memorial with the names of the local lads who gave their all for us in the two World Wars. Dedicated in July 1923 by S. Howard Whitbread.
Lower left, shows a device for breaking down Hemp (Flax) for the making of rope. It was used as a symbol by the Bray family known as "the Hemp Bray" or Brake.
Lower right. A device called a Plait Mill, it was used to flatten the plait much like a mangle. Our village was once famous for its straw plait, indeed, I doubt it could have survived in the 18th and 19th centuries without it. Straw was plaited into lengths of 20 yards – or a "score" as it was known, and sold to the hat manufacturers in Luton.
The Chevron shown here comes from the Coat of Arms of the Bray Family (seen below on the post).
Lower centre. Moat Farm in the High Street. Once the home of the Henley's, they were one of the larger duck breeders in the village. It was said that you could smell the ducks as you came down Lancot Hill. The Henley's also manufactured bricks and tiles form the area now covered by bungalows in Church Lane. The clay dug in these pits contains no iron and as a result the bricks produced were a yellow colour. There are plenty about in the village, see if you can spot them.
The Bray Coat of Arms.
The shield is divided by a chevron and depicts three Eagles feet showing their claws. These were said to be "armed", that is to say the Brays were fighting men or Knights. We know that Reginald Bray was fighting at Bosworth Field as it was reputed to be he who found the fallen crown on a thorn bush and handed it to Lord Stanley who, in turn, placed it upon the head of Henry Tudor, Earl of Richmond proclaiming him Henry V11 in 1485. Five weeks later Reginald was knighted by the king, and granted the manor of Eyton for his services, hence the modern name Eaton Bray.
Lower right. Carnations represent W.E.Wallace and Son Ltd. one time Eaton Bray's largest employers. Starting up in Eaton Bray in 1886, they went from strength to strength producing thousands of blooms a day right up to the mid 1970's. The range of colours was wide and included numerous varieties that were grown only by this company. Some of the names live on like Wivelsfield, Northcliffe. Coral and Saffron Rise as road names on the Wallace Drive Estate.
Lower left. Prunes, this unique variety of plums grow only on the Vale of Aylesbury from Hockliffe in the north to Western Turville. All the villages in between grew the crop and on a good year could fetch £80 per ton. A small orchard could produce enough fruit in a season that, when sold, would pay the rent on a cottage for a year.
Source: Focus, August/September 2012
---
The National Archives have recently released a tool which enables you to search and browse over 90% of the places mentioned in Domesday Book. To try it out, go to labs.nationalarchives.gov.uk/domesday.
Due to slight technical glitches, the Domesday on a map site still isn't working perfectly, but it does allow you to search for places such as Eaton Bray and quickly view the available documents from the Domesday Book, such as this detail for Eaton Bray, 1086.
For more historical maps, photos and information about Eaton Bray, see our Eaton Bray History pages.
Source: The National Archives Blog
---
A silver 15th century disc, called a vervel, has been confirmed as treasure following an inquest at Dunstable Coroner's Court.
The solid circular disc, discovered in Eaton Bray, has the name Edward inscribed among foliage on one side.
It was used to connect leather jesses attached to a hawk's legs to the bird's block when grounded.
And according to comments from the British Museum, the inscription could relate to Edward Prince or Prince Edward, the son of Henry VI, or the son of Edward IV, who later became Edward V.
Finder Mr Wilde discovered the piece in an area belonging to landowner Mr French in 2007.
But it was not until a few years later that Mr Wilde realised it could be more than 300 years old.
The inquest heard how Mr Wilde took it to Birmingham City Council, which then gave it to the British Museum for inspection by specialists.
As the piece is made of a minimum of 10 per cent precious metal, this means that it qualifies as treasure under the Treasure Act 1996.
Coroner David Morris said that he would register the vervel as treasure with the British Museum.
Read the rest of this article on Dunstable Today.
---
For the latest news from Eaton Bray and beyond, get the Dunstable Gazette every Wednesday and make a daily date with Dunstable Today.
Source: Dunstable Today
---
With reference to the story in Focus Magazine with regard to the discovery of Cyril Jackson's grave, let me say - it was never lost! I was first made aware of it nearly fifty years ago by village people when gathering facts on the village history.
Moving on to 1987, the Dunstable Gazette ran a story from a man in Leeds searching for information for his family tree. I contacted him and over the next few years we pieced together his family's Eaton Bray connections together with photographs. Unfortunately Roger died in 2004.
To cut a very long story short, I'll start in 1854 when Joseph Henley married Kitty Abrahams. Joseph was a farmer's son and Kitty's parents were tenants of (Richard Fountains) Fountain Pub in the High Street, now May Close. The product of their marriage was 8 children, William, Elizabeth, Anne, John, (he died very young) Mary, John, Louisa and Arthur. For the purpose of this exercise it's Mary we are interested in for it was she who married Jeffery Jackson on 14th April 1884, they also had 8 children, Elizabeth, Cecil, Arthur, twins Ethel and Hettie, Gertrude and twin boys Alec and Eric.
Back to Mary's brothers and sisters! William married Mary Trippit and very shortly moved to York as an agriculture labourer. Elizabeth married Edmund Wildman and went to live in Harrow. Anne married William Rollings and was a tenant at the Hope and Anchor, Bower Lane. John, as mentioned before, died young. Another John born 6 years later married Hettie Roberts of The Rye. They lived at Moat Hall before they joined brother William in York. Louisa had 8 children. Arthur married Isobella Tolloch, an Australian, he went to London and became a policeman. On the 15th October 1905 Arthur came to his mother Kitty's funeral at Eaton Bray, he caught the flu and never recovered. He passed away on 13th January 1906 and is burned near his mum. I should also mention that John and Hettie had 13 children in York. Hettie had a small dowry which they invested in a coal merchants business at Layerthorpe, the York terminus of the Derwent Valley Railway. He sold out and bought a farm at Skipforth, Stillingfleet Hill. Mary and Jeffrey started married life living in The Rye. The house they lived in was Mr. Roberts Maltings, a house he bought in 1843 from Dunstable Brewery Co.
Their 8 children were born here. Elizabeth married Ernest Wildman (you will remember her aunt was also married to a Wildman). Cecil went down on the Titanic on 24 April 1912 aged 21 years. Arthur, 1st Battalion Bedfordshire Regiment killed in action 23rd April 1917 at Flanders. He is commemorated on the Arras Memorial, Calais. Elizabeth moved to Oakley, north of Bedford and at some time worked as a nanny, travelling around the world with the family, and, at one time visited the Argentine, quite rare in those days. It was to Oakley and Elizabeth that Jeffrey finally retired to after his beloved wife Mary died in 1945.
Ethel went to Bedford and worked as a dressmaker. She later became a companion to Lady Rhoda Birley, wife of Sir Oswald Birley, the Royal Portrait Painter, returning to High Street, Eaton Bray on her retirement. I visited her in 1987.
Hettie, her twin sister, married and became Mrs. Bowley and lived in Leicester. She had two children, Arthur and Margaret.
Gertrude married Gordon Sear who was the son of Will Sear, manager of the Coffee Tavern. They lived in Luton Road, Dunstable. Mr. Sear was an insurance man. They had two children, Patricia was born in 1932 and married a Vicar and Judith, born in 1938 became a Senior Nurse.
Gertrude was keen to keep the family name going so named her daughters - Henley Sears.
Alec married Grace Bleeny and had Pamela in 1937. His wife died and he remarried and in 1942 he had Elizabeth Ann. Alec worked for Wallace Nursery as Foreman of the water tower. He left there in 1948 and moved to Shefford. It was here he helped his wife's relatives to set up a green house business. Eric, Alec's twin, qualified as an electrician and married and went to live in Stewartby near Bedford. He was foreman electrician for the London Brick Company until his retirement. He had two children, Beverley and Roger, Beverley died young in a road accident.
In the 1920's Mary and Jeffrey moved to 38 High Street and it was here that "Jul", as he was known, ran a greengrocers business from the yard at the rear. He would fill his pony and cart with produce and hawk it round the villages. Together with a bit of light carting, he would eke out a living. He is remembered by Maurice Sanders as being a hard working Methodist devoted to the Chapel. Maurice also mentions him in his book "Memories of Methodism" quote - "As a radical who thrilled to the tune Lloyd, and with a lusty voice, he would start up the last verse of the favourite hymn time after time until the organist could get in the Amen".
My thanks to the following people for their help. Roger and Ann Davies, Margaret Knight, Maurice Sanders and Mrs. Pamela Roberts. Without their help this tales would have been impossible.
---
The village of Eaton Bray sits at the foot of the Dunstable Downs and was once known as Eitone, or 'place of water' due to the large number of natural springs in and around the village.
Eitone is mentioned in the Doomsday Book of 1086, after the invasion by William the Conqueror, the manor of Eitone is given to his half brother Odo Bishop of Bayeux. Odo was to rule England when William was in Normandy. He commissioned the Bayeux Tapestry, which shows Odo and William talking just before the battle of Hastings. Later William and Odo quarrel and Odo is put in prison for plotting against William, and the manor reverts back to the crown.
The manor passes from Plantagenet Henry II (1154) to his Queen Eleanor of Aquitaine. Legend states that she and her children had plotted against the King, and as a punishment were kept at Etione from 1173-85.
On Eleanor's death William Cantelupe bought the manor for 300 marks in 1205. A Norman by birth, William soon turned his attention to his new aqusision and started to enlarge the existing small church and build himself a fine new castle.
However the church had been given to an Augustine Priory, at Merton in Surrey. On learning this William, having already started work on the church, took advice from the Abbot of St. Albans. He stopped work and changes his plan, obtaining permission to include a chapel in his castle.
If visiting St. Mary's church note the wonderful arcading, this being the work of William Cantilupe and dates from the early 13th century.
William was a great baron and politically important he was one of the barons who extorted the Magna Carta from King John.
William begins building a large castle, the earthworks and moats are still visible to day. The castle is described in the annuals of Dunstable as being a serious danger to the town and the neighbourhood. The extent of the castle in 1274 is described as - enclosed with moats and two drawbridges and a gatehouse. There is a hall with two chambers, a pantry, buttery, and a large chamber with galleries, a good granary and stabling for 60 horses.
The Manor remained in the possession of the Cantilupes and their descendents, the de la Zouch's, until the Wars of the Roses. When the 7th Lord John de la Zouch had the misfortune of supporting the wrong side when the armies of Richard III and Henry Tudor clashed at the battle of Bosworth in 1485.
Henry Tudor was crowned Henry VII and gave the manor to his own supporter Reginald Bray, who was with William Stanley when he picked up Richards crown and placed it on Henry Tudor's head.
Reginald Bray is knighted soon afterwards and Eitone becomes Eaton Bray. Sir Reginald was a respected statesman and architect and soon turns his attention to his new church by adding a clearstory and lady chapel.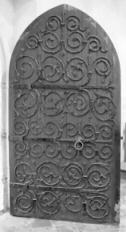 The church has wonderful 13th century ironwork on the south door, which is attributed to John of Leighton who was also responsible for work in St. George's chapel Windsor. Eaton Bray church is described as one of the finest parish churches in England.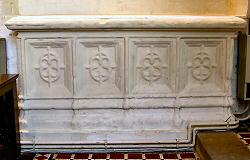 The tomb of Lady Bray rests to the left of the high alter. A brass hanging on the wall shows her in a fashionable 'Paris' headdress with her 10 daughters and one son! [More informaton about the church is available on the St Mary's Virtual Tour.]
Sir Reginald builds himself a fine manor house on the site of the now ruined castle; the house was demolished in the late 18th century. Reginald Bray was responsible for the design and rebuilding of St. George's Chapel Windsor and is buried there in the Bray Chapel. By the mid 16th century the main part of family dies out with the death of John Bray.
After the dissolution Henry VIII gives St. Mary's Church to Trinity College Cambridge, and it remained under their jurisdiction until 1938 when the living passed to St. Albans board of patronage.
The village like many others in Bedfordshire relied for employment on agriculture, straw plaiting for the hat trade and the growing of Prune plums.
Upon the arrival of The Wallace family in the latter part of the 19th century, the village again changed. The family became successful carnation growers, and provided employment until after WW2. They were great benefactors to the Church, with the alter rodeos and stained glass east window being donated by the family. They also took a keen interest in village life with Mrs Wallace forming the 1st Eaton Bray Boy Scouts troop.
---
Present Eaton Bray is a lively vibrant village, with many activities ranging from sports through to an annual pantomime and a monthly film club also a Sunday lunch club for older single folk. There is a flourishing WI, many church activities, and a busy village hall, which has been recently refurbished and now proudly boasts of a high tech sound and light system, projector with a large screen. All due to an enthusiastic group of village volunteers have raised funds for this with the support and grants from the Parish Council, SBDC and County Council.
---
Based on the text of an article written for the Bedfordshire Matters publication.
The Eaton Bray Millenium Book contains further historical infomation including how the village changed between 1900 and 1999 - Eaton Bray - A Century of Change.
---
The Eaton Bray millenium booklet titled Eaton Bray - A Century of Change was origially published as part of the millenium celebrations by Eaton Bray Parish Council. It has now been reproduced on eatonbray.com by kind permission of Peter and Mary Mayne, author and editor of the booklet respectively.
To view the contents of the Millenium Book, see Eaton Bray - A Century of Change.
If you have any of your own photos or historic documents that you would like to see published for others to enjoy, please leave a comment below or use the Contact Us page. You can also send us files directly using the Submit Content page.
---
Children and staff from Eaton Bray Lower School enjoyed a journey back in time when they dressed up as characters from different eras for a history day.
There were some colourful costumes on show, which included several wartime evacuees, wounded soldiers and pirates.
The history day has been linked into the children's learning programme.
Each pupil dressed as a character from the period in history which they are studying.
The school's head, Sue Hounslow, who dressed as a pirate for the day, said: "It was a big success. The children thoroughly enjoyed it and it helped them learn about history.
"Each. child does research from home and they gain a lot from it."
---
For the latest news from Eaton Bray and beyond, get the Dunstable Gazette every Wednesday and make a daily date with Dunstable Today.
Source: Dunstable Gazette, 26 March 2008
---
Recently I came across some details of how they dealt with crime in the Middle Ages.
On the whole I think the way they went about things would certainly cause a big decrease in crime if we used their methods today)
Contrary to popular belief, in those days the death penalty was only used very occasionally for murders. People who had committed bad crimes such as robbery had all their possessions taken from their house to be sold or disposed of.
They could also be outlawed or expelled from the country for ever. The law was that they were required to take an oath to leave England and never return unless they received permission from the king.
They had to nominate the port from which they would sail, and then dressed in sackcloth and carrying a wooden cross in their hand as a sign of the Church's protection they had to walk there.
If they could not get a ship in time they had to wade in the sea up to their knees every day, as a token of their desire to cross it.
The protection of the Church applied to people who had sought sanctuary in their local church, like Robert of Eggington, who hid in Eggington church from fear because people wanted to arrest him for thefts. He stayed there for over a month and then confessed before the coroner that he was a thief and had stolen ham worth 2s, hens, geese and many other things.
His possessions worth 2s were confiscated and he was sent to Dover and ordered to take the first ship out and never come back.
Another case, in May 1379, was that of William Palmere of Leighton Buzzard who was outlawed for causing the death of Thomas Wydenhale.
Palmere was arrested and put in the stocks. But he managed to break free and fled to Leighton Buzzard church and stayed there, for 13 days.
He confessed his crime before the coroner, and was sent to Dover with orders to leave the country and never return.
A straightforward case of murder involved a man called Henry of Cornwall who had a row with Robert Sirlock of Leighton Buzzard over money owed for hens.
Henry struck Robert a blow above the left ear with a bow causing him to fall, and he died on the following day.
Henry's chattels, consisting mainly of sheaves of wheat, were confiscated and he was arrested and outlawed.
Another man to be outlawed was William Reeve of Tilsworth who quarrelled with his brother Richard, eventually striking him on the top of his head with an axe and giving him a four inch wound "so that his brain flowed forth." Richard died after being given the rights of the Church.
A woman who was exiled was Joan Clarice of Eaton Bray who was lying in bed with her husband John when he "suddenly had madness take possession of him."
She took a small scythe and cut his throat. She also took a billhook and struck him on the right side of his head "so that his brain flowed forth and he immediately died."
Joan fled to Houghton Regis church without telling anyone her husband was dead, but the next day their son, also called John, was troubled that his father was lying in bed so late and raised the alarm when he found that he was dead.
Joan later appeared before the coroner and confessed that she had killed her husband without any help.
The dead man's chattels were distributed to his boys and Joan was ordered to walk to Dover and take the next boat out of England.
There were two coroners dispensing justice in Bedfordshire, one for the north of the county and the other for the south.
Much of their work involved inquests and these included quite a few people who had drowned falling into wells and rivers, often because they had epilepsy, known as the falling sickness.
Another common cause of accidental death was to people doing building work, who fell off roofs, or had walls fall on them. Many people also died in falls from horses and cart accidents.
Among such victims were the Abbot of Woburn's servant, William Day, who climbed an oak on the eastern side of Woburn wood and, standing on a ladder, cut a branch. The branch fell on his head and threw him from the ladder so that he fell, broke the whole of his body and immediately died.
The ladder was appraised at 1d and the branch at 2d and they were delivered to Woburn chapel.
Also at Woburn, Ralph Wye of Brought and Henry of Stewkley were in a marl-pit. Henry left the pit leaving Ralph in it washing. But then Ralph fell into a deeper part of the pit and drowned.
At the inquest the coroner said that neither Henry nor anyone else was guilty of Ralph's death, which was due to misadventure.
Other inquests included Alice Bercher aged 18 months, who was sitting by the fire in her father's house when a dish full of boiling water, which stood on a trivet on the fire, by misadventure fell on her so she died.
A woman called Emma who had been begging bread from door-to-door, came to a piece of cultivated land and died after being seized by the cold.
Another beggar was Joan, "a poor child aged five" who died from drowning after falling off a bridge.
Alice Cok, a poor woman, fell down while going from door-to-door begging food and then went to the home of her sister Agnes, who went out to get some milk for her.
While Agnes was away a fire broke out and burned the whole house with Alice inside it.
Richard Holme was transporting sheaves of barley in a cart, when the cart stuck in a ditch. Richard went to the wheel and tried to raise the cart but it fell on him, breaking his whole body and killing him.
A girl who was killed accident), was Maud Reynold, who was sitting on the doorstep outside her home, when a bob called Alfred arrived carrying a bow and arrows.
He shot at a target with a small arrow and by misadventure struck Maud in the right eye so that she lost her sight and died 15 days later.
A child of two called Cicely, went out of her father's door carrying bread. A small pig came and tried to take the bread from her hand and she fell Into a ditch and died from misadventure.
A man called Thomas Julian who was greasing the wheel of the abbot of Woburn's mill with his left hand stood too close to it and it crushed his arm, causing his death later that day.
The abbot was fined for having caused a human death.
During the 12th century there were 118 deaths by misadventure and 102 homicides, most of which were carried out on sudden impulses with the nearest weapons.
A punishment that appears to have taken place once was the cutting off of a man's ear after he had been in the stocks.
Source: Dick Dawson's local history column, Leighton Buzzard Observer, 18 December 2007
---
More than 300,000 photographs of the country's greatest architectural treasures have been collected together in a digital Domesday Book.
The project, organised by English Heritage, has taken seven years to complete and includes photographs of Eaton Bray, Leighton Buzzard, Woburn, Linslade, Eggington and probably many more local places that I did not have time to find on the very large website www.imagesofengland.org.uk.
On it you will find almost every building and monument in the country that has been listed as being of architectural and historical importance.
By using the search facility visitors to the site are able to view images of 420 castles, 7,484 parish churches, 2,146 telephone boxes, 2,700 milestones, 55 garden sheds, eight waterfalls, 124,190 Victorian listed buildings, 82,250 Tudor listed buildings and 10,195 post 1901 listed buildings.
There are numerous other items such as 6,283 bridges, 73 bandstands and one racing pigeon loft.
Using the site will enable you to look up all the buildings of a particular architect, and if you are going away you can look up all the listed buildings in a particular area.
Source: Leighton Buzzard Observer, 30 October 2007
---
Our church will be open for visitors, with welcoming stewards, refreshments, and the opportunity to view Parish Records, History and Photos which will be on display.
Sunday 5th August from 2.00-5.00pm.
---
What do the Wild West, Dagnall Church extension and a TV presenter have in common? The answer is quite simple - but only if you have been coming to the St Mary's Village Carnival since 1990. For those of you now intrigued, the Wild West was the theme of the carnival in 2001, Pam Rhodes opened the 1998 Carnival and Dagnall Church Extension was one of the good causes supported by the 2005 event.
Thames Valley Police consider the Carnival to be the biggest single annual event that they police, other than the Bucks County Show. But how did four villages manage to create this great family day out - not to mention raise over £103,000 for local good causes since 1995?
The Carnival itself has been taking place for much more than 12 years though. It began as a traditional church fete, first in the Vicarage Garden and then in 1965 it moved to Park Farm in Eaton Bray. By 1988, however, it had outgrown its Park Farm site and was moved to Eaton Bray Recreational Ground. Its stay there was short-lived because in the following year it again transformed itself, under the guidance of Mel Grundy when the decision was taken to alternate between Eaton Bray Recreational Ground and Edlesborough Green. Accordingly the 1989 Carnival was the first to be held in Edlesborough. However, the huge advantage that the open space of Edlesborough Green gave soon became evident and, despite initial intentions, the Carnival has never moved back to Eaton Bray. Anyone coming to the Carnival today will recognise that with the parade, the arena events, dog show, classic car show and range of entertainment, the Carnival has long since ceased to be a village fete.
Since 1990, the Carnival has been opened by a long list of local personalities. These include 4 local councillors, 3 TV or radio presenters, 2 MPs and.....instead of a partridge in a pear tree - you can take your pick from one vicar, a celebrity chef and a disabled athlete! The Carnival has also been opened by a local GP, two local shopkeepers and last year, by Mel Grundy, whose idea it was to develop the 'fete' into today's Carnival. Taking over from Mel as Chairman of the Carnival Committee was Gordon Gray and from 2003 onwards, Peter Bennett.
Over the years, as well as supporting the St Mary's Church fabric fund (which pays for maintenance on the church building in Eaton Bray), the Carnival has raised money for the Florence Nightingale, Iain Rennie and Luton and South Beds Hospices, Keech Cottage, the Silver Star Society at the John Radcliffe Hospital, the Stoke Mandeville Cancer Unit and the Anthony Nolan Bone Marrow Trust, all of which have helped local residents. The Carnival has also raised funds for a myriad of local good causes, from playgroups and Scout groups to the Dunstable and District disabled typing club and St John Ambulance.
One feature of the Carnival that has stayed constant thoroughout its history is the great support it receives each year from you - the great public of the four villages!
For each of the last four years, we have raised £10,000 for the good causes. (Note this is the actual amount donated to good causes and not the amount generated in 'turnover'!) The most raised in a single year was £10,700 in 2003 - help us on 7th July 2007 to beat this and get £11,000!
---
Anyone fascinated by the history of Eaton Bray should make a date to visit the village church this Sunday afternoon.
A talk on the history of the manor of Eaton Bray, covering the period from 1066 until the dissolution of the monasteries by Henry VIII in the 16th century, is being given as part of the church trail scheme organised by St Mary's.
The talk will include information about Lord of the Manor, Reginald Bray, who was a national figure with connections to St George's Chapel, Windsor.
Afterwards there will be tours of the church to learn more about the building's provenance, at 2.30pm and 4pm.
For more information visit www.stmaryseatonbray.org.uk.
Source: Leighton Buzzard Observer, 30 May 2006
---
Many hands make light work - and save their parish church money.
When the vicar of Eaton Bray, the Rev Peter Graham, needed a drainage system digging around St Mary's Church, parishioners were only too happy to help out in August 1956.
Here young and old set to work digging a ditch, while, left, volunteer workman Wesley Maunders really gets down to it by digging a manhole. It was hoped to have the work completed before winter set in.
Source: Dunstable Gazette, August 1956
---

Photographer John Bodsworth
This was a very memorable event for me, watching the trees come down with my older brother Paul. I'm pretty sure date-wise this would be late 1953, 1954 or early 1955. (We moved to Park Lane, Eaton Bray in December 1952, I had just turned 5. The earliest this would have been would have been late 1953.)
The three bigger boys are the Clarke brothers (from L to R), Sammy, Brian and Freddy, who also lived in Park Lane. I'm unsure who the smaller boy in the middle on the left of the picture is.
The family that took the poplar trees down was Cecil Rose and his sons, one of whom was Brian. Brian drive a tractor that I got to ride on occasionally. When they took the trees down, because they were so large and so close to the house, Brian and his tractor were tied to the trees and when the each tree began to fall, Brian drove as hard as he could to make sure the trees fell clear of the house. They had at least one close call! As I said, I this was a very memorable event for me.
---
Article updated to reflect detail provided by Dawn Clarke in comments.
Source: Ron Evans
---