Archived News
August 2011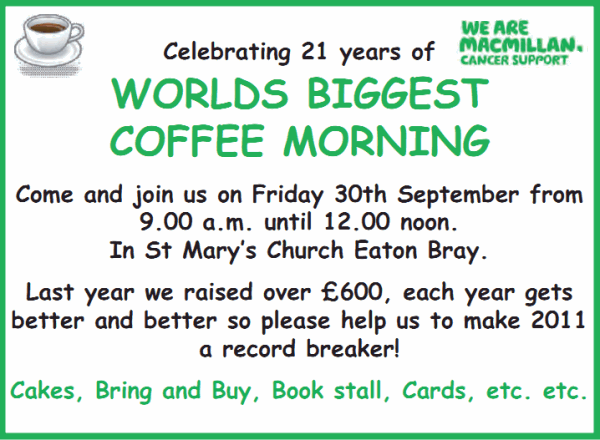 Come and join us on Friday 30th September from 9.00 a.m. until 12.00 noon.
In St Mary's Church Eaton Bray.
Last year we raised over £600, each year gets better and better so please help us to make 2011 a record breaker!
Cakes, Bring and Buy, Book stall, Cards, etc. etc
---
The next Eaton Bray Parish Council meeting will be held on 5th September at 7.30pm in the Coffee Tavern.
-- Parish Council Clerk
---
Saturday 17th September 2011, 7.30pm at Eaton Bray Village Hall, Church Lane, Eaton Bray
Light refreshments, Egyptian Bazaar, Raffle
An evening of Ancient and Modern Egyptian Dance
performed by Wings of Isis and Eaton Bray Egyptian Dance Class
BOX OFFICE : 07976 964316
---
After winning the toss and deciding to bat the Bray friendly XI would have been very pleased to total 189-7 from their 40overs, especially after losing opener Barker for a duck. The Bray were indebted to skipper J Peacock's excellent 109 and Louis Peek 21 - his highest score for the club so far.
In reply and in a scorecard mirroring that of the Brays, Codicote relied heavily on Spencer who finished on 104* with Lucy compiling 28. Skipper Peacock was delighted with his bowlers as brother Ryan performed brilliantly to take 2-16 from his 8 overs (well supported by Mark Easton taking an excellent catch). With young Connor Parkes again bowling well (unfortunately denied two wickets due to dropped catches) and a dubious no-ball denying Easton a debut wicket Codicote got home with 3 overs and 6 wickets to spare.
Result: Codicote CC - Sunday XI Won by 6 wickets
Date: Sun 21st Aug 2011
Ground: Codicote Cricket Ground
Type: Friendly
Scoring: Standard
Toss: Friendly XI won the toss and decided to bat
Source: Eaton Bray Cricket Club
---
It was always going to be a tough ask against leaders Thurleigh, but batting first Thurleigh put the Bray under tremendous presure from the word go and only Coughtrey (1-39) had any success as first Wood (39) then Bailey (86*) and Milne (60*) ran up 202-1, before declaring with 13 overs to spare.
On the face of it this was a very sporting declaration as it left the Bray with some 57 overs to secure the win, however it also meant that the draw was very unlikely, which satisfied the aims of both teams, since a win for the Bray would have closed the gap on relegation rivals Totternhoe. As it was Thurleigh showed why they are doing so well in this division with Franklin (5-20) proving very difficult to handle, as the Bray were bundled out for 55 with only Hawkes (12) providing any resistance.
Adrift by 47pts at the foot of the table with only two games to go, it looks like div 4 cricket will follow next season, however a trip to Willen and then local rivals Totternhoe to finish, mean that the Bray still have some cricket left to play...can they finish with a bang?
Result: Thurleigh CC - 1st XI Won Batting First by 147 runs
Date: Sat 20th Aug 2011
Start Time: 13:30
Type: League : Four Counties Cricket League - Division 3
Scoring: Standard
Toss: 2nd XI won the toss and decided to bowl
Highlights: Thurleigh CC: A Bailey 86 NO, A Milne 60 NO, C Franklin 10-3-20-5
Source: Eaton Bray Cricket Club
---
In the crucial fixture against league leaders North Crawley the Bray had to win convincingly to put Crawley under any pressure, with just the two games to follow.
As it was Crawley won the toss and asked the Bray to bat, who promptly slumped to 30-2 as both Hosking (22) and Peacock (0) succumbed to the bowling of Sharpe. This left Harris and Norris with much to do and at drinks they were still together, but accurate bowling had left them behind the perceived run rate. Some acceleration followed but the departure of Harris (60) allowed Flecknell to open his shoulders and smash 73* from only 40 deliveries and with Norris (52*) the Bray finished with a respectable 220-3 from their 44 overs.
On Crawley's excellent wicket 220 isn't a huge total and early wickets would be key to a Bray win, however Walker timed the ball well from the off and despite the loss of Phillipson, Goss (55*) who batted with great energy and Walker with a chanceless(121*) cruised to victory with 7 overs to spare. This all but means Crawley have taken the league title and on the evidence of this game they are surely the strongest team in all departments and deserved of the title.
On a sad note the game was unfortunately marred by the very serious injury to Bray bowler Manny Barker, who sustained a leg break whilst fielding and all our thoughts are with him as he now faces a long road to recovery.
Crawley face second place MK City next and with the Bray just 47 behind them any slip ups by City could see the Bray sneak to second place and in what has been a difficult season runners-up spot would be a bonus.
Result: North Crawley CC - 1st XI Won Batting Second by 8 wickets
Date: Sat 20th Aug 2011
Start Time: 13:30
Ground: The Recreation Ground - North Crawley
Type: League : Four Counties Cricket League - Division 1
Scoring: Standard
Toss: North Crawley CC - 1st XI won the toss and decided to bowl
Highlights: Eaton Bray - James Flecknell 73*, Paul Harris 60, Andy Norris 52* North Crawley - Alex Walker 121*, Marcus Goss 55*
Source: Eaton Bray Cricket Club
---
The Bray 2nd XI travelled to Willen on Saturday hoping that a positive result may give them a boost in their fight against relegation from Divison Three. Batting first they totalled 162 with 45 from debutant Shah and 30 from Bray stalwart Salmon the notable contributions. In reply, Bray did take 6 wickets, with 3 from stand-in captain Warner and 1 each for Roff, Jarrett and Jones, but the total was always going to be too light as Willen won the game in the 35th over. The 2nd XI take 6 points from the game but need to win in order to stay in the division, starting with their game this Saturday vs high flying Thurleigh.
Josh Peacock - 19/08/2011
Result: Willen CC - Saturday XI Won Batting Second by 4 wickets
Date: Sat 13th Aug 2011
Start Time: 13:30
Ground: Willen Pavilion
Type: League : Four Counties Cricket League - Division 3
Scoring: Standard
Toss: Willen CC - Saturday XI won the toss and decided to bowl
Source: Eaton Bray Cricket Club
---
The Sunday XI got back to playing cricket on Sunday and came up short against local opposition Mentmore CC. Batting first Mentmore totalled 214-4 with Clapham carrying his bat for 77 not out.
Adam Harvey put all of Eaton Bray's mind's at rest at the end of the innings at least, by checking on adjoining fields' farmyard animals and was able to confirm they were alive and well after feeding many buffet balls to opposition batsman Kirchener who bludgeoned 52.
Roff was ever economical in taking 1-36 from his 8 overs, and other notable contributions included 1-30 (8 ovs) from Ryan Peacock. An early loss was suffered by Bray, with McDermid out for 5 in the 4th over. Skip Peacock joined pal Wilson and they set about chasing Moron's target quickly, as boundaries were registered frequently, until a halt was put to the effort as Wilson was caught for 16. 7 boundary fours came from the bat of Peacock until he was out courtesy of a juggled catch from Kirchener for 30. Matt Ringsell also smashed 28 before falling to the spin of Sloan and then a collapse followed with 5 wickets falling for just 14 runs, despite late resistance from Ryan Peacock (27) and Roff (5 not out), the middle order collapse hampered the efforts greatly, as Bray closed all out in the 39th over for 161.
Result: Mentmore CC - Sunday Friendly XI Won by 53 runs
Date: Sun 14th Aug 2011
Start Time: 14:00
Ground: The Rye Gardens
Type: Friendly
Scoring: Standard
Toss: Mentmore CC - Sunday Friendly XI won the toss and decided to bat
Source: Eaton Bray Cricket Club
---
In Div 1 of the Four Counties League Eaton Bray 1sts played Biddenham in a bid to close the gap on league leaders North Crawley.
After some confusion at the toss the Bray eventually chose to bat and after another good start, notably some strong back foot play from Hosking (26) the departure of both openers (at 69-2) left the way for Josh Peacock (64) and skipper Norris (63) to record an excellent partnership of 114. This took the game away from Biddenham and with Flecknell (18*) adding some late power, the Bray were able to declare 2 overs early, setting a target of 216 to win.
On a sticky wicket the pace of Ellerton and Norris caused early troubles, but it was the introduction of Mike Smith (3-14) that changed the game, as the top order fell to his subtle variations. Add in a run out and some tight bowling from Barker (1-1 from 6 overs) and Biddenham were eventually all out for 90, this despite the best efforts of Wren to hold out for the draw.
Unfortunately North Crawley also took 30pts from their game, so the gap remains at 76pts and with only 3 games to go, this Saturdays game at looks set to be the Brays last chance of really applying pressure to the leaders.
Result: Eaton Bray CC - 1st XI Won Batting First by 125 runs
Date: Sat 13th Aug 2011
Start Time: 13:30
Ground: The Rye Gardens
Type: League : Four Counties Cricket League - Division 1
Scoring: Standard
Toss: 1st XI won the toss and decided to bat
Highlights: Eaton Bray: P.Harris 30, J.Peacock 64, A.Norris 63, Biddenham: M.Smith 3-14
Source: Eaton Bray Cricket Club
---
In July a party from Elf made a trip to the Industrial Heritage Centre based at Frogmore Mill, Apsley, which is run by 'Paper Trail' a registered charity, manned by volunteers. This is where the first commercial paper machine was installed in 1803, thus starting papers' industrial revolution, and – at a much later date – Basildon Bond was produced.
Whilst full scale commercial production no longer takes place, a small company is operating there and the whole process of paper making, from start to finish, can be seen – and one of the original 'monster' machines is still in situ, although no longer in use.
The print room gives the history of printing from Tyndale's Bible through newspapers and almost up to the computer. Our visit also included a short trip on the canal which was the main source of transportation both of the fi nished paper and delivery of raw materials to the Mill. The guides were excellent with their information and explanations – a place well worth a visit.
In August, nearer home, and indeed at the home of Alan and Val Trantum, members enjoyed 'Afternoon Tea' in the garden, with the usual array of goodies, bonhomie and chat! All good fellowship stuff! We always welcome new people; we are all retired of course (that's how we manage to do all these nice things during the day) and for more information please contact Alan or Val.
Source: Focus, October 2011
---
Scales to Tails is run by Heather Findlay, a local mum in the village, who has been working with animals for many years and is qualified in animal welfare to degree level.
Scales to Tails, the all-animal pet-sitter, is a friendly and reliable service where you're pet's welfare and comfort are her first priority.
Heather has been working with animals for 12 years and in this time has worked with a wide range of animals including cats, reptiles, birds, amphibians and large animals such as horses, cows and alpacas. Police-checked and insured, Scales To Tails is based in Eaton Bray and also covers the surrounding villages.
For more information please see www.scalestotails.co.uk, email: [email protected], or phone: 07773 183 365.
Scales To Tails are currently offering Book now for October and receive 15% off. (Not valid for dog walking. Offer Valid until end of August 2011).
---
Extra officers were deployed to known hotspot areas in Bedfordshire during the night and as a result disrupted any potential for disorder that may have occurred.
Speculation on social media sites that 'rioting' had begun in Bedford and Luton was untrue and messages were quickly posted by the Force Communications team via Twitter and Facebook to reassure communities that all was quiet across the county. Public appreciation for these messages has since been re posted.
While there was no disorder, reports of a couple of small fires being started were received, which the Fire Service responded to as 'business as usual'. One was at Leagrave Motors in Sundon Park Road at around midnight and a bin fire at Arrow Close, both in Luton sometime later. No other incidents were reported and no one was injured.
While events are on-going in London and cities elsewhere, Bedfordshire Police has also taken the precautionary measure and requested fuel stations do not to sell jerry cans or containers of fuel.
The Bedfordshire and Hertfordshire Civil Contingencies and Public Order Planning Unit also sent a Police Support Unit (PSU) to assist the Metropolitan Police operation in London. Custody space and call taking support was also offered.
Anyone with information that could assist police in their prevention of disorder should call the main switchboard on 01234 841212, text to 07786 200011 or call Crimestoppers anonymously on 0800 555 111.
---
A fine all round performance from skipper Andy Norris saw Bray 1sts defeat Studham with just 11 balls to go to keep their faint title hopes alive.
Batting first on a wicket with good bounce and carry the Bray were on the back foot very quickly as some excellent slip catches and a smart stumping saw the Bray slump to 24-4. Partnerships between Norris and Hearn (10), Jacobs (23) and Pearson (15) saw the score to 138-8 when Norris (55) was finally out. Some late hitting from Ellerton (17) dragged the total to 161 which with a fast outfield looked rather light.
Much like the last week however, a low total offered a tempting target for the opposition and Studham went aggresively about chasing it down, finding themselves 25-5 before R Thorne (29) and I Bostock (38) set about repairing the damage. At one point with the pair going well it looked like the win may have been back on, but the introduction of Peacocks' spin saw Thorne tempted into one big hit too many and a fine catch by Flecknell on the boundary saw the last defense breached. This let in Norris who had Bostock lbw and finished with 5-12.
With 4 games to go the Bray sit 3rd, some 76points behind first spot, but with the leaders facing three tricky games (against us and the teams sitting 2nd and 4th) there is still an outside chance of snatching the title...
Result: Eaton Bray CC - 1st XI Won Batting First by 40 runs
Date: Sat 6th Aug 2011
Start Time: 13:30
Ground: Studham Playing Fields
Type: League : Four Counties Cricket League - Division 1
Scoring: Standard
Toss: Studham CC - 1st XI won the toss and decided to bowl
Highlights: A.Norris 55, C.Thorne 5-20; I.Bostock 38, A.Norris 5-12
Source: Eaton Bray Cricket Club
---
In a bid to make it 4 wins in a row the Bray entertained fellow title rivals MK City in a 2nd vs 3rd place game. Batting first the Bray again got off to a good start as both Hosking (90) and Harris (56) combined to put on 114 for the 1st wicket before Harris played a rash shot. After that only Norris (16) got in to double figures and 175-4 with some 12overs to go soon became 193 all out with 4overs still to play and at tea the Bray looked a little light ith perhaps 230 being the least that could have been expected.
In reply City were almost immediately on the back foot as Norris (4-38) and Flecknell (3-24) got amongst the wickets and it was left to Tahir and P Heady to bat long in order to prevent the Bray taking all the spoils. At the end City finished 8 wickets down and the Bray were left to rue a no ball that saw Heady bowled with 12 overs still to go.
Result: Eaton Bray CC - 1st XI WDW 50
Date: Sat 30th Jul 2011
Start Time: 13:30
Ground: The Rye Gardens
Type: League : Four Counties Cricket League - Division 1
Scoring: Standard
Toss: 1st XI won the toss and decided to bat
Highlights: W.Hosking 90, P.Harris 56, D.Loveland 3-28 J.Loveland 30, I.Tahir 30, A.Norris 4-38, J.Flecknell 3-24
Source: Eaton Bray Cricket Club
---
Eaton Bray held onto the Andy Holloway memorial trophy for the 4th year in a row last Sunday as they beat Olly's XI by 11 runs. The game is held each year, in remembrance of former player Andy Holloway, who sadly passed away nearly six years ago. The game consists of 30 overs a side and 3 overs maximum a bowler, so no hiding for anyone! Whilst battle commences out on the pitch, a barbecue is held and more importantly, the bar is kept open!
Batting first, Bray made 172, thanks to knocks from Peacock (57n.o), borrowed player Harris (40) and Ellerton (20). At the tea interva (where Barm had another cider), the lads were confident their total would be enough to take them over the line. And so it was, with regular wickets being taken, leaving Olly's XI to end on 162 and 11 runs short, despite herioics from Watt (33) and former Bray legend Wheeler (25 n.o).
As always, the game was played in a competitive, but friendly spirit and over £400 has so far been counted from the proceeds of the day, which will go to a chosen local cause.
Bring on next year, 5 years in a row coming up!
Date: Sun 31st Jul 2011
Start Time: 14:00
Ground: The Rye Gardens
Type: Friendly
Scoring: Standard
Source: Eaton Bray Cricket Club
---
After taking over at Easter we have really enjoyed our first term running Cheeky Monkeys. We have had a few newcomers, lots of regulars and loads of fun, the ball pool and craft table have been firm favourites. We now don't charge entry to babies under 6 months and we will be introducing a termly subscription as of September.
We would also like to support local Childminders and small businesses in the area by having contact details on our website. For more information have a look at our updated website www.cheekymonkeys.btck.co.uk and you can also join us on Facebook/Cheeky Monkeys Eaton Bray.
We also need your help to continue running Cheeky Monkeys in September, we require at least one more volunteer to help us. It will be for approximately 3 hours every Wednesday during term time, you don't have to have children that are within the age range of Cheeky Monkeys to volunteer. If you feel you can help please contact us via [email protected].
We hope you all have an enjoyable summer and look forward to seeing you all again soon.
-- Heather and Rachel
---
Firstly, we must say a sincere thank you to everybody who came along to see us at the Edlesborough carnival on 2nd July. It was our fi rst 'public' event and we were made very welcome. We are delighted that so many of you came to say 'hello' and enjoyed our games. It was a milestone moment for this proposed new club to hand over our star prize of dinner for 4 at the Doubletree by Hilton when the winning ticket was pulled from the Treasure Island board!
In total we raised an impressive £190.00 from the day – every penny Lions earn is donated back into local causes and this new club will be no different!
The proposed club has decided to make it's fi rst donation to the Medical Detection Dogs in memory of a former Lion who sadly passed away earlier this year after a short battle with cancer.
Dogs are renowned for their sense of smell. For centuries doctors have know diseases have characteristic odours which, dogs may be able to detect. Cancer cells release small amounts of volatile substances. Cancer Detection Dogs are being trained to detect these volatiles, it is hoped that this work and research will enable scientists to develop an early cancer screening system.
Medical Alert Dogs are trained to assist individuals who manage complex medical conditions on a day to day basis. Dogs are taught to identify the odour changes that are associated with certain medical events. For example for someone living with diabetes, hypoglycaemia (low blood sugar) or the avoidance of it can be a daily problem. Symptoms can vary from confusion, seizures to comas and be life threatening. Medical Alert Dogs are trained to recognise blood sugar levels outside the normal range. Dogs, once trained, can warn and get help before the symptoms are felt. They will bring their owner any necessary medical supplies such as glucose and blood testing kits and get help if necessary. They can also be trained to push alarm buttons.
Medical Detection Dogs provide alert dogs for those with other very dangerous health conditions including Addisonian crisis which causes severe pain, convulsions and unconsciousness. Pain seizures which lead to collapse and hospitalisation. Narcolepsy, a malfunction of the sleep/wake regulating system which causes sleep attacks and paralysis.
They are continuing to investigate other debilitating and potentially fatal conditions which dogs may have the ability to help with. These include severe allergic responses and migraines proving dogs really can be 'man's best friend'!
We are hoping to organise a presentation evening in the autumn to include a talk from the Medical Detection Dogs Team and perhaps a meeting with some of the dogs themselves. Full information will be circulated closer to the date once fi nal details have been confi rmed.
It was incredible to see how many of you got into the carnival spirit and decorated your houses – we don't envy the judges who had to choose which display was the best ! It is this very community spirit that convinces us that our proposal for a Lions club will be successful and we sincerely hope that more people will come forward and join us....We need at least 8 more members before we can become a fully functional Lions club so if you are interested or know anyone who may be, then please do get in touch. More information is available on our website www.ebelions.org.uk
Ordinary people doing amazing things
Source: Focus, August/September 2011
---
Bedfordshire Police have drawn up ambitious plans to improve the service provided by the Force while also saving taxpayers' money.
From October 2011, the Force and the Police Authority will deliver a more streamlined process to improve both operational capacity and capability. This means that more officers will be available to deal with incidents reported to us by the public.
The Force carried out a detailed review of the way it organised key departments to identify areas where costs could be cut and performance improved. During the process, residents confirmed they were happy for structural matters to be dealt with by the Force so long as they received an appropriate police response when needed and crime continued to fall.
The new changes will see the number of police officers dedicated to local policing double from 92 to 185. This means a larger number of officers will be available to tackle local crime, anti-social behaviour and other community concerns while PCSOs will carry out more patrols.
There will no longer be any geographic boundaries or divisions separating communities. Instead, a Chief Superintendent will oversee Local Policing while another will be responsible for Tackling Crime.
Through reorganisation, the Force and the Police Authority will speed up response times. A new centralised team will respond to incidents county-wide officers will get to where they are needed more quickly as well as save money.
Meanwhile, a greater number of incidents will be resolved over the telephone to reduce demand on frontline staff thanks to a new appointment system for non-emergency issues. A recent survey found that people accepted this as a good way of dealing with non-urgent matters. A new three digit non-emergency number will be introduced in the autumn, after which time all you will need to dial is 101 for non-urgent situations.
Peter Conniff, Chair of Bedfordshire Police Authority, said: "We've listened to our residents throughout the review process and their comments have very much informed our strategic decisions. The changes have been made to promote greater access to police services and deliver a more effective response that meets the expectations of our communities."
---
AUGUST...Marks the time of high summer...
SEPTEMBER...Brings the start of autumn...
Harvest time...When we visit our local supermarket we are met with such an abundance - fruit and vegetables, meat and bread, tins and packets - aisle after aisle of plenty. Plants, flowers, seeds; - we make our purchases and leave, with never a thought as to how all that produce came into being. There is a scriptural admonition in Hebrews that says, "Be content with such things as ye have." Still though we search for and cannot resist that which we think is a bargain. There is, however, the beauty of a harvest in our surroundings, the sunset, a blaze of heavenly glory, a painted scene that would be hard for an earthly artist to copy, wild flowers, trees bearing fruit, the fields where horses, cows and sheep graze, barley waving in the breeze, the flight of birds in formation. As the wonder of the handiwork of God unfolds before our vision, and the miracle of growth and renewal becomes evident, remember to say a prayer of thanks to our Creator. Phil 4:8. "Whatsoever things are lovely...think on these things" Mark 4:29 "When the grain is ripe the man starts working with his sickle, for harvest time is come"
"Where are the gentle horses, that one time worked our land;
Pulled the reaper and the binder, when the stooks were built by hand?
Where are the many farm workers who started early morn,
And led home horse drawn wagons, piled high with sheaves of corn.
The thresher then was fed all day to separate the grain,
And men and horses worked 'till dark in case of falling rain.
The straw was made into a stack, neat roofed with thatch and pin,
And corn in sacks for flour or feed, all safely gathered in;
We do not see the sheaves of corn on stubble anymore,
Instead, the combine harvester moves forward with a roar;
revolving blades cut down the ears which disappear inside
the body of the great machine and are threshed and cleaned and dried.
Soon from a chute, a stream of grain into a trailer falls;
It is tractor driven home and stored within the granary walls.
The straw is bailed and stacked away 'neath plastic, black and thin.
With speed of automation:- all is safely gathered in
Source: Focus, August/September 2011
---
Things are hotting up – literally – at EBLTC this summer. Some of our Tuesday and Sunday social playing sessions have even been accompanied by the occasional glimpse of sunlight! One intrepid individual was actually spotted wearing shorts last week. He hopes to be over the worst of the frostbite soon. But the lighter evenings mean two things. First, it means that the Earth's northern hemisphere is tilting towards the sun while the southern hemisphere tilts away from it. So as the UK is tilted toward the sun, the daylight lasts more than 12 hours because the sun is at its northernmost position from the equator. Second, it means that we can play more tennis. It is this second fact that is the most interesting (or less boring) to our merry band of members, and thus encourages them out onto the courts after dinner like bees round a honey pot.
Thus, our junior members are coming on leaps and bounds thanks to coach Sara Leavy's enthusiastic and fun Saturday morning sessions. Our internal club tournament is at a peak, with members vying to get into the next round, the incentive being a place on court on Final's Day on Saturday 10th September. Final's day always draws big crowds, nearly 25 turned up last year. This time though, there is an added highlight. As well as our usual scrumptious 256 menu choice barbecue, I will be attempting once more to conquer that death defying annual challenge which is the umpire's chair. Last year I got halfway up and felt dizzy, and despite bravely continuing to the top, couldn't turn around to park myself in the seat. As such I descended backwards down all 6 steps and walked round and round in circles in a very stressed state, demanding to anyone who would listen that I was immediately released from umpiring duties. Ross then very kindly sat me down, made me a cup of sweet tea and persuaded me to umpire from ground level, which I was very happy with. I've now spent a year in therapy with an acrophobia specialist and am already able to go upstairs on my own, so don't miss my second attempt at 'the chair' on 10th September..! I just hope I'll fit into it; it does seem to shrink a bit every year whilst in storage. The clubhouse must be damp, I'll have a word with the committee.
Our various teams in the South Beds league continue to fight hard against some excellent competition. It's a difficult year; with several of our teams having being promoted into higher divisions after last season, the quality of the opposition has likewise improved. We're a bit like Stoke City though, stabilising our position this year before going for total domination next season. In total, 48 matches have so far been played (or occasionally postponed as the opposition struggle to find brave-enough players to face us). Our Girls Under 16s are doing very well, with Alison Lowe and Alicia Franklin winning all their matches. Our Ladies team has won 2 matches (with Alison again appearing in both...) as have our Men's A and our Mixed. Unfortunately Alison wasn't allowed to play for the Men's A team, although they could do with her based on some tough matches coming up! But there's a way to go yet, and a full report of our final positions will appear here at the end of the season, so stay tuned! Someone called me to say that it will also appear on BskyB, but only if I left them my mobile phone security details, and a summary of the tennis club's recent financial transactions. Based on our Vietnamese financier Phut Pholt's recent record, I declined and told them that if I ever heard from them again, I'd get their newspaper closed down. The power of EBLTC.
For any further information about the club, including when we get together for our social tennis sessions up at the School Lane courts, or our various activities, you can visit our website at www.ebltc.org.uk
---
Our Garden Party was a great success despite the odd shower. Our thanks to all the folk who came along and supported us and to everyone who helped in any way, beforehand, during and after the event. A special thank you to James and Jane McFarland for the loan of their beautiful home and garden and for organising the day. The proceeds from the day have been sent to Help for Heroes.
As August is particularly busy in our Circuit this year we have some changes to our normal Service Plan as follows:
Sunday August 7th at 10-30am we will have a Songs of Praise, organised by our Chapel members.
Sunday August 14th at 10-30am we will join Edlesborough Methodist Chapel for a
United Service with Communion.
Sunday August 21st at 10-30am we will hold a United Service in our Chapel.
Sunday August 28th at 10-30am we are invited to join Trinity Methodist Church in Leighton Buzzard for a United Service.
Our Harvest Festival will take place on Sunday September 25th at 10-30 am and be led by Mr Steve Jones and the members of our Sunday School. Following coffee after our Service we shall be serving our Harvest Lunch. To book a lunch please contact Graham Carter.
CAFE COMMUNITY will be starting again after our summer break on SATURDAY OCTOBER 8th from 11-00am until 1-00pm.
---
A strong Open University side were asked to bat first and clearly they hadn't reviewed the league table in racking up 275-6 off 41 overs. With the Bray struggling at the foot of the table and an average score of 140 this season, it was somewhat surprising that the declaration didn't come some 10 overs sooner.
Kerins with 5-45 and Green with his first league wicket slowed the runs a little but the damage had been done by Lall who hit 135 in an opening stand of 192.
Bray started poorly and were soon reduced to 47-3 which could have been worse if Gypps hadn't been dropped in the 1st over. He and Kerins then dug in for some 35 overs to save the game, Gypps finishing unbeaten on 66 with the latter out for 57.
Open University refused to 'dangle the carrott' by having men situated on the boundary at all times even though the runs were never going to be an issue. Regularly bowling wide of the stumps also assisted the Bray in the battle for this draw. OU are certainly a good side, but a little more invention may have brought them more reward - this may well cost them the title.
The Bray moved off the bottom of the table with this draw and are starting to show the kind of spirit they will need to avoid relegation.
Result: Open University CC - Saturday League XI WDNW 50
Date: Sat 30th Jul 2011
Start Time: 13:30
Ground: The OU Pavilion
Type: League : Four Counties Cricket League - Division 3
Scoring: Standard
Toss: 2nd XI won the toss and decided to bowl
Highlights: OUCC- Basil Lall 135, Tom Richens 50. Eaton Bray- Andy Gypps 66NO, Darren Kerins 57 and 5/45.
Source: Eaton Bray Cricket Club
---