Archived News
October 2008
The younger sister of top racing driver Stirling Moss, who was a rally champion in her own right, has died.
Pat Moss-Carlsson, aged 73, passed away at her Tring home surrounded by her family on Tuesday, October 14, following a battle with cancer.
She was a one of Britain's leading horsewomen and rally drivers.
During her younger years she could often be spotted travelling around Tring on horse-back or in her Morris Minor named Granny, which she used to go shopping in.
Her funeral is due to be held in Eaton Bray, Beds, on Friday, October 24.
---
The President welcomed the members and the minutes from our previous meeting were read and signed as correct.
There are several social occasions coming along during the next few weeks for members to participate in and in November Eaton Bray Women's Institute are celebrating their 84th Birthday.
The Dunstable and the Villagers WI Christmas Evening will this year be hosted by Houghton Regis WI on 5th December.
All our members agreed that we would purchase a Poppy Wreath to be place on the War Memorial on Remembrance Day.
It has yet to be decided which charity we will be supporting this Christmas, with business finished we welcomed our guest speaker Anna Conti. Anna gave a very enjoyable talk and demonstration, on the intricateness of designing and making stained glass windows and panels.
Our November speaker will be from Luton Women's Refuge.
The next meeting will be on 3rd November at 7.30pm in Eaton Bray Village Hall.
Friends and new members are always very welcome.
For more info. Contact 01525 221185.
Source: Eaton Bray WI
---
The village of Eaton Bray sits at the foot of the Dunstable Downs and was once known as Eitone, or 'place of water' due to the large number of natural springs in and around the village.
Eitone is mentioned in the Doomsday Book of 1086, after the invasion by William the Conqueror, the manor of Eitone is given to his half brother Odo Bishop of Bayeux. Odo was to rule England when William was in Normandy. He commissioned the Bayeux Tapestry, which shows Odo and William talking just before the battle of Hastings. Later William and Odo quarrel and Odo is put in prison for plotting against William, and the manor reverts back to the crown.
The manor passes from Plantagenet Henry II (1154) to his Queen Eleanor of Aquitaine. Legend states that she and her children had plotted against the King, and as a punishment were kept at Etione from 1173-85.
On Eleanor's death William Cantelupe bought the manor for 300 marks in 1205. A Norman by birth, William soon turned his attention to his new aqusision and started to enlarge the existing small church and build himself a fine new castle.
However the church had been given to an Augustine Priory, at Merton in Surrey. On learning this William, having already started work on the church, took advice from the Abbot of St. Albans. He stopped work and changes his plan, obtaining permission to include a chapel in his castle.
If visiting St. Mary's church note the wonderful arcading, this being the work of William Cantilupe and dates from the early 13th century.
William was a great baron and politically important he was one of the barons who extorted the Magna Carta from King John.
William begins building a large castle, the earthworks and moats are still visible to day. The castle is described in the annuals of Dunstable as being a serious danger to the town and the neighbourhood. The extent of the castle in 1274 is described as - enclosed with moats and two drawbridges and a gatehouse. There is a hall with two chambers, a pantry, buttery, and a large chamber with galleries, a good granary and stabling for 60 horses.
The Manor remained in the possession of the Cantilupes and their descendents, the de la Zouch's, until the Wars of the Roses. When the 7th Lord John de la Zouch had the misfortune of supporting the wrong side when the armies of Richard III and Henry Tudor clashed at the battle of Bosworth in 1485.
Henry Tudor was crowned Henry VII and gave the manor to his own supporter Reginald Bray, who was with William Stanley when he picked up Richards crown and placed it on Henry Tudor's head.
Reginald Bray is knighted soon afterwards and Eitone becomes Eaton Bray. Sir Reginald was a respected statesman and architect and soon turns his attention to his new church by adding a clearstory and lady chapel.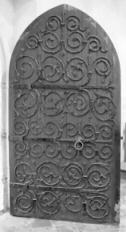 The church has wonderful 13th century ironwork on the south door, which is attributed to John of Leighton who was also responsible for work in St. George's chapel Windsor. Eaton Bray church is described as one of the finest parish churches in England.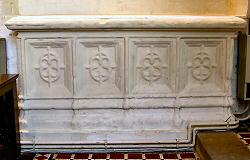 The tomb of Lady Bray rests to the left of the high alter. A brass hanging on the wall shows her in a fashionable 'Paris' headdress with her 10 daughters and one son! [More informaton about the church is available on the St Mary's Virtual Tour.]
Sir Reginald builds himself a fine manor house on the site of the now ruined castle; the house was demolished in the late 18th century. Reginald Bray was responsible for the design and rebuilding of St. George's Chapel Windsor and is buried there in the Bray Chapel. By the mid 16th century the main part of family dies out with the death of John Bray.
After the dissolution Henry VIII gives St. Mary's Church to Trinity College Cambridge, and it remained under their jurisdiction until 1938 when the living passed to St. Albans board of patronage.
The village like many others in Bedfordshire relied for employment on agriculture, straw plaiting for the hat trade and the growing of Prune plums.
Upon the arrival of The Wallace family in the latter part of the 19th century, the village again changed. The family became successful carnation growers, and provided employment until after WW2. They were great benefactors to the Church, with the alter rodeos and stained glass east window being donated by the family. They also took a keen interest in village life with Mrs Wallace forming the 1st Eaton Bray Boy Scouts troop.
---
Present Eaton Bray is a lively vibrant village, with many activities ranging from sports through to an annual pantomime and a monthly film club also a Sunday lunch club for older single folk. There is a flourishing WI, many church activities, and a busy village hall, which has been recently refurbished and now proudly boasts of a high tech sound and light system, projector with a large screen. All due to an enthusiastic group of village volunteers have raised funds for this with the support and grants from the Parish Council, SBDC and County Council.
---
Based on the text of an article written for the Bedfordshire Matters publication.
The Eaton Bray Millenium Book contains further historical infomation including how the village changed between 1900 and 1999 - Eaton Bray - A Century of Change.
---
EB Lions Reds U9 - 1
Brache Sparta - 1
Lions had a key player of sick and most of the team had been to the school disco the night before. Although Lions had a good start with a goal after four minutes from Jack Quigley, they looked a different side to normal.
With continued pressure it was only a determined opposition and some good goalkeeping that kept the Lions at bay. After 15 minutes Brache scored the equaliser and it was 1-1 at half time.
The second half saw the Lions have most of the play and another strong display by Tom Bartbato at fullback helped to ensure that the match ended level. The Lions now need to get back to their normal game to ensure that this display is a one off.
Team: Quigley, Nevitt, Oliver, Barbaro, Mines, Higgs, Giblin, Shrowder.
---
EB Lions U13 Girls - 1
Leighton United - 1
What a great start against a well organised and determined opposition in Lions' first division one match. With most of the pressure coming from the Lions they could have got on the score sheet on a few occasions during the first half.
But United's Emily Tickell, Leonia Moore and Louise Eddy closed down Lions' attacks. A commanding display in goal by Lions GoM Nancy Oliver kept shots out by United's Alyss Lander. Chelcie Page played an excellent role in centre for United.
The second half saw Sammy Beharry take over the most forward position back up by Clara O'Halan and Georgia Pennington for United. United went 1 -0 up through a left footed shot by Pennington.
Ten minutes later Lions equalised with a corner from Darcy Ashby and a well placed shot from Hattie French.
This was a high tempo match with good football being played by both teams. United GoM Katie Dickerson.
Lions' team: Oliver, Thiel, Scott, Ashby, Ferguson, Hudson, French, Viljoen, Kirkwood, Woolsey, Byrne.
Source: EB Lions
---
Residents in the East of England were invited to have their say through a consultation run by the Government Office for the East of England (GO-East), on behalf of the Secretary of State for Communities and Local Government.
Local authorities are responsible for planning authorised pitches for the gypsy and traveller community as well as the housing needs of the settled population. The East of England Regional Assembly (EERA) recommended that each of the region's 48 local authorities should plan for at least 15 additional pitches by 2011 in a draft policy ('Planning for Gypsy and Traveller Accommodation Needs). This was published on 25 February for 12 weeks public consultation. The plans for additional Gypsy and Traveller authorised sites are part of a single issue review of the East of England Plan (Regional Spatial Strategy) and follow two years of research and consultation with local authorities, businesses, voluntary organisations, the public and Gypsies and Travellers.
The East of England Plan provides a clear, agreed, long-term vision for how the region will provide jobs and homes for its residents until 2021 and beyond. It is the framework for putting into place the Government's growth agenda within the region and ensuring that growth is sustainable. The adequate provision of homes and affordable housing to accommodate the needs of different communities is a vital element of the Plan.
The panel will conduct an Examination in Public from Tuesday 21 October - Friday 24 October at the Spirella Ballroom in Letchworth, Hertfordshire. Using the results of the public consultation, the panel will provide recommendations on any changes to the proposals. The Government will consult on any further changes before publishing the final policy in 2009.
Further information about the Examination in Public is available on the Planning Inspectorate's website.
Source: Government Office for the East of England
---
You will have seen elsewhere in Focus that, as a result of this year's Carnival, a magnificent £11,750 has been distributed among a range of local good causes by the Organising Committee. In the August issue of Focus thanks were expressed to the Committee who helped organised the event but this did not adequately recognise the importance of the work done by the Committee's Chairman, Peter Bennett. Once again this year, Peter acted as a guiding light over the Carnival preparation and conduct, just as he has done for the previous four years.
After five years as Chairman, and 20 years altogether on the Carnival Committee, Peter is standing down, partly for health reasons, so it is fitting to record the thanks of the Committee and all who have benefited from his leadership role over this time. Peter, our thoughts and prayers are with you and Eileen and we anticipate that you will, as usual, exceed our expectations running the Silent Auction at next year's Carnival.
So who will Chair the Carnival Committee next year? Well, with apologies to those who thought they had seen the back of me five years ago, I have agreed to take on the challenge once again - and, given the current economic situation, I guess it will be a challenge this year. But with your support, whatever circumstances we find ourselves in, we will make the day an enjoyable one. Some decisions have been made - the event will be on Edlesborough Green on Saturday 4 July with a theme of 'Books' - so enormous scope for dressing up.
Already we are exploring some exciting new attractions, which you will hear more about next year; but at this stage I am keen to emphasise that the Carnival Committee never has been an exclusive group of people and to invite anyone who would like to help in any way, big or small, to get in touch with me. Perhaps you would like to serve on the Committee, or help on the day, maybe you can offer a prize that we could use in our Grand Draw or Silent Auction, perhaps you have ideas for or access to, new attractions, or have access to equipment that we could use - vehicles, marquees, walkie-talkies, disposables. If so, please contact me, Gordon Gray. I am not known for turning offers of help away!
The success of the Carnival comes down to everyone in this community. Let's all help to make our Carnival a day to remember once again.
Source: Focus, November 2008
---
EB Lions Girls U13 - 1
Cranfield Girls U13 - 2
After only four minutes Lions were unlucky to concede an own goal and had to dig deep to pull themselves back from an unfortunate start. With twelve minutes gone Darcy Ashby scored from the penalty spot to put the Lions back on level pegging. For the rest of the first half Lions were the stronger team and came close to scoring on many occasions with some good efforts from Hattie French and Megan Viljoen up front.
Lions made various substitutions during the match but were unable to find the right combination to put them ahead. With all the pressure coming from Lions it was only a penalty decision against Lions that enabled Cranfield to regain the lead. Again Lions pushed on with everyone pushing forward doing what they could to equalise. Katy Thiel was GoM with a strong all round performance.
This was a real team effort from Lions with everyone giving their all.
---
EB Lions U15 - 3
Bushmead U15 - 2
This was a very competitive and closely fought match with plenty of action producing scoring chances for both teams. Lions were first to score when Crace neatly flicked the ball over the keeper, though it seemed to take an age for the ball to reach the net.
Lions lost two players to injury during the first half, but excellent play by MoM Audouard, Ali Thorne and Thiel prevented Bushmead from equalising until Lions were too slow to clear the ball in the final minute before half-time.
Five minutes into the second half Gus Thorne passed over the defenders to Marshall who coolly chipped the ball over the keeper to score Lions' second. Bushmead retaliated almost immediately with a superb shot from close range leaving Lions' goalie no chance. Lions piled on the pressure again and were rewarded with the winning goal when a great attacking move left Crace free to score his second with five minutes remaining.
Source: EB Lions
---
Two women from Eaton Bray received a lovely surprise on Wednesday when they were given a certificate by their friends at the Mothers Union for serving in the Land Army during World War II.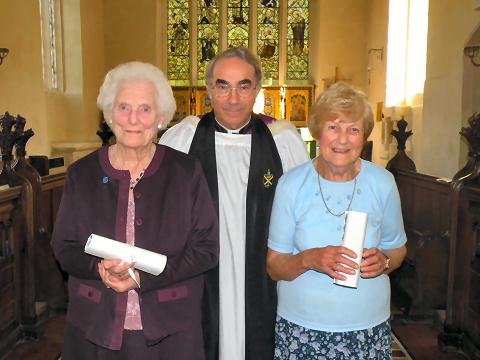 Unsuspecting Celia French and Dorothy Bradbury had gone along to the usual MU meeting at St Mary's Church, in Eaton Bray, to find they were the topic of discussion. Members presented them with a certificate and a cake in recognition for their hard work to keep the nation fed in those dark and desperate days.
Dorothy has received her Land Army service medal from the government this week, while Celia has yet to send for hers.
During the war Celia, now 83, was first sent to a farm in Silsoe, but then she transferred to a chicken farm in Eaton Bray where she stayed for four years.
She met her husband, who was a farmer and played in the local dance band, and they were married in 1947. She has lived on the farm ever since. Sadly, her husband died six years ago.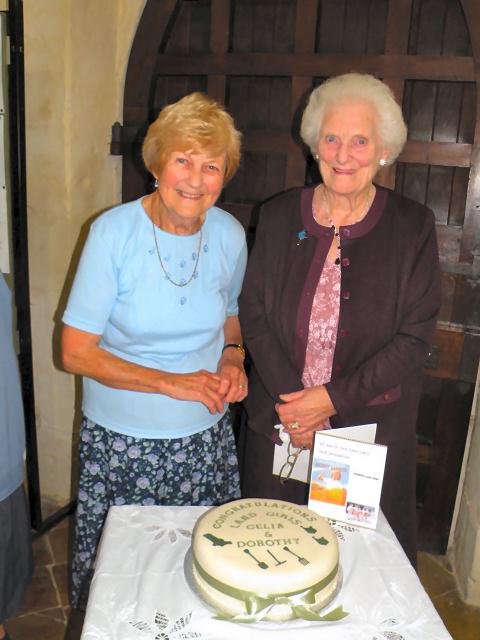 Celia said: I was too young to join the army, so I joined the land army instead because I wanted to do something. I've put it to the back of my mind now — I was only 18 then."
Eighty-six-year old Dorothy had an "absolutely wonderful afternoon" on Wednesday. She said she came out of the church feeling like a different person.
Dorothy, who has lived at Wallace Mews in Eaton Bray for 18 years, served on a farm in Cavendish, Suffolk, during the war.
She also joined the local concert party, church choir and drama society.
"I have lots of memories" she said. "Singing and dancing, and learning to work on a farm. I remember running around the farmyard once screaming because a bat had landed in my hair!
"I was also knocked flying by some pigs and kicked in the stomach by a horse. Still, I loved working with the horses, they were my favourite. I also learned to milk a cow.
"Being a land girl was very hard work. When we began there were 41 sharing a house. By the end there were only 24."
The government decided to issue land girls with medals last year, 62 years after the end of the war.
Source: St Mary's Eaton Bray
---
Minutes of Parish Council Meeting: Monday 6th October 2008
The next Parish Council meeting to be held at the Coffee Tavern on Monday 3rd November 2008 at 7.30pm. Items for the November agenda to be requested no later than Wednesday 22nd October 2008.
---
This term we are in great need of more people to come and join us for a relaxing afternoon of drinking tea or coffee while the children go off and play.
Our creative activities this term include Autumn trees, treasure maps, food plates, under the sea pictures, play dough, night pictures, make a big red bus, Halloween pictures, Christmas cards, Christmas decorations and puppet show.
We charge £1.50 per adult, £1.00 per child and 50p for babies under 1 year old. For this you get a hot drink and a biscuit/fruit and the children get a cold drink and a biscuit/fruit.
We meet every Wednesday afternoon 1.15pm to 3pm term time only.
Hope to see you there.
Source: Focus, October 2008
---
The established and well developed association of Bukonkai Karate International (BKI), teaching traditional Shotokan karate, has a new club in Eaton Bray. Run by Brian Bates 3rd dan on Thursday evening it's sure to be enjoyed by anyone willing to give it a try.
Brain Bates has been studying karate for over 20 years, and teaching for over 10 years under the BKI association. He achieved his 3rd dan in 2005 under the watchful eye of the association's chief instructor Sensei Lee Williams 5th dan.
Brian has won the BKI national and regional championships in both kata (forms) and kumite (fighting) and has trained junior BKI national champions. Brain is keen to pass on the rewards of karate training to others and 5 years ago opened his first karate club in Houghton Regis. This club has proved to be hugely popular in the town and always performs well in regional and national events.
The new Eaton Bray club is an extension to the BKI South East Region's existing clubs of Luton, Dunstable, Houghton Regis, Northill and Southwater. The Eaton Bray club runs on Thursday evening from 7pm - 8.30pm and has already been well received by the local villagers since it opened in August. The Eaton Bray Village Hall has proved to be an excellent venue with adequate and safe parking and spacious training facilities. The club is aimed at 6 to 96 year olds who have an interest in health & fitness while learning self defence. Karate will also help develop self-confidence and coordination as well as improve agility for all ages.
The club will incorporate traditional methods of Shotokan karate as intended and taught by the Japanese masters, as well as including a more modern approach to fitness and fun. As well as the weekly training sessions the members of the club will also be able to take part in the associations regional and national competitions as individuals or as part of a team. The South East Regional clubs also organise family fun days (weather permitting) and social activities for children at Christmas time. Please come along and give it a try, what have you got to lose?
For more information contact Brian on 079 5834 8086.
Source: Focus, October 2008
---
Memorial Park Whites U9 - 4
EB Lions Blues U9 - 0
EB Lions were out of the blocks quickly with David Wood, Connor Tough and Robert Bunting (captain) marshalling the midfield well.
They should have gone into the break in front, but found themselves a goal down despite dominating play.
The second half saw a great debut performance from Lee Saunders, who combined well with Jack Reynolds on the left. Bradley Hicks and Luke Jearrad in defence both put in a tremendous tough tackling display.
Upfront, Matthew Kennel) ran tirelessly creating chances continually testing the opposition's goalie. Performance of the day went to the EB Lions goalkeeper MoM Ollie Mulcahy who commanded his area well and produced some truly outstanding saves.
With such a great team performance the EB Lions will find this defeat hard to swallow; but they will take heart from their overall efforts, and with continued hard work, dedication and some long overdue luck they will turn the tide.
---
Letchworth Garden City U13 Girls - 1
EB Lions U13 Girls - 3
This was a match that the Lions needed to win to improve their chance of getting into Division 1.
From the start Lions looked the stronger team and after 10 minutes Hattie French scored after some fine passing and movement.
At half time it was 1-0 but could have been far more. After the break Lions got an early goal from Bethan Woolsey after a long throw from French. With six minutes remaining Megan Viljoen scored their third after a strong run and then in the last minute Letchworth broke through and scored.
Lions produced some good play throughout the match, controlling midfield with Darcy Ashby, Katy Thiel, GoM Devon Ferguson and Eden Scott putting in some very strong performances.
Team: Oliver, Thiel, Scott, Ashby, Ferguson, Hudson, French, Viljoen, Kirkwood, Woolsey, Byrne.
Source: EB Lions
---
Of all the events in all the towns in all the countries, the one that is most anticipated by those fortunate enough to be fully paid up members of Eaton Bray Tennis Club is the annual Chairman's barbecue. This year, as last year (and possibly the one before, I've really lost count of how long Ross has been Chairman) it was held at chez Bagni. A more delightful setting would be hard to imagine; tall yew trees swinging gently in the light breeze sheltering vibrantly colourful fauna borders, pitched against a beautifully manicured lawn (well it was when we arrived...) all in a sizeable L-shaped garden with an enchanting vine-covered pagoda providing a welcome sanctuary for the drinks bar from the sun. I tell you, there's more money in hats than you can imagine. Either that or he disappeared once in a canoe.
So there we all gathered at 2pm one sunny mid-July Saturday afternoon, 28 of us eager to obtain maximum value for money from our £12 ticket, entitling us to a choice of thick steak, succulent chicken or generous vegetarian lunch, a veritable feast of salads, potatoes, pastas and delectable desserts, and 'as much as you can drink' before dusk creeps in and we're all sent home. Everyone was responsible for barbecuing their own food, which caused a little confusion during peak cooking times over whose steak was whose, but most disagreements were settled amicably without resorting to threatening behaviour with a pair of tongs. The highlight, of course, was the liquid refreshment situation, where six different types of lagers and beers languished invitingly submerged in ice in cool boxes; French red and white wine was laid on abundantly, and if you popped inside when Ross and Shelagh were otherwise engaged cleaning up the spilt sherry trifle you'd cleverly arranged as a diversionary tactic, you could help yourself to as much of his malt Laphroig whisky as you liked. Plus there was an extremely smooth vintage brandy, which he kept hidden away for special occasions. If this wasn't a special occasion I don't know what was, so clearly it had to be sampled.
As you'll appreciate, dusk in July comes quite late, so by 8pm several of us had enjoyed more than our fair share of the Chairman's beverage benevolence, and weighing up the options of either staying until it got quite dark and probably falling over on the lawn (with subsequent further damage to said lawn's previously superior appearance), or calling a taxi for the short hop back home, we chose the latter. Some locals stumbled back to their homes with the aid of their satellite navigation systems (that's their wives), but even I was able to calculate that walking back to Dunstable was not really an option, based on the previous trouble some club members had put Dunstable Downs Mountain Rescue to some years before. So bidding our fond farewells to friends old and newfound, we found ourselves sharing a taxi with those very same club members who once spent the night wandering the wildernesses that are the Downs, and we all mutually congratulated ourselves on how sober and sensible we'd been to remember to call a taxi. Or maybe that was our wives too....
Needless to say, the Sunday morning social tennis session was not too well attended that weekend, most members preferring a little lie in and a leisurely breakfast of black coffee and dry toast. I panicked when, whilst pouring a third strong coffee, I glanced out of the kitchen window and noticed with much alarm that someone had stolen my car during the night. It's amazing how quickly you sober up when you realise you have to call the police. Fortunately my wife was able to grab the receiver from my hand before I further embarrassed myself, and quietly reminded me that I'd left it at the Treasurer's house in Eaton Bray when we drove down to the barbecue the previous afternoon. Sure enough, some considerable time later that day, there she was patiently awaiting my return to once more be admired and pampered in the manner to which she had become accustomed. So was the car.
For any further information about the club, including when we get together for our social tennis sessions up at the School Lane courts, or our various activities, please contact either Chairman Ross Bagni, Coach Nick Boys, or if they're all out and I'm not replacing divots in the chairman's lawn, me, Andy Cross.
Source: Focus, October 2008
---
A new booklet has been published by Maurice Sanders. It is a reprint of his previous writings and now combines over 30 unique photographs not previous published. The photos are of old club members, some showing them engaged in hilarious antics. Also included in the booklet are 16 advertisements of village traders who sponsored the club in the 1950s, interestingly all now gone except for Janes of Edlesborough!
This limited editon booklet, specially produced for The Mayne Event on Saturday October 11th is available only at The Mayne Event, not the author or elsewhere.
Much appreciation goes to Moren Associates Limited (who produce Focus) and have donated the artwork and production free of charge.
This is a must for ex members and would make an excellent Christmas gift at only £5.
---
THE MAYNE EVENT!
EDLESBOROUGH MEMORIAL HALL
SATURDAY, OCTOBER 11TH 2008, 10AM - 4PM
ADMISSION - £3
QUILTS ? QUILTS ? QUILTS! BY MARY MAYNE
PINSTRIPING DISPLAY BY DANNY MAYNE
RAFFLE, TEAS, COFFEE, CAKES, BISCUILTS.
RAFFLE WITH A DIFFERENCE!
ALSO...
EATON BRAY AND EDLESBOROUGH, A CENTURY OF CHANGE
SLIDE PRESENTATION BY PETER MAYNE
EVENING PRESENTATION,
DOORS OPEN - 6-30PM STARTS PROMPT 7PM
TICKETS LIMITED TO 50 ONLY
AVAILABLE FROM ROEBUCK GARAGE FROM SEPTEMBER 26th.
ADMISSION MINIMUM DONATION OF £5 PER TICKET
RAFFLE, TEAS, COFFEE & BISCUITS
All Proceeds In Aid Of Papworth Hospital Oncology Unit And Ground Floor Surgical Ward
Source: Focus, October 2008
---
Enjoy an hour of gentle stretches & exercises designed to work with your body. Pilates helps to tone your muscles, promotes better posture, stronger abdominals, back muscles & pelvic floor.
We offer group classes and one to one training, providing the opportunity for everybody to experience Pilates - the Body Boost way.
The Eaton Bray class has EXPANDED!, we moved out of the Coffee Tavern into the Village Hall, I am now taking on new customers for this class, if you would like to book, please email.
The sequence class at Eaton Bray has also been replaced by a new class "Pilates Plus", which is a rotation of Big Ball, Mini Ball, Dyna Band and Sequence Pilates, this will be a 45 minute session, and will have the same options on levels as the Mat-work classes so are suitable for everyone!!
You'll leave your session feeling relaxed, refreshed and feeling great!
Tuesdays
Eaton Bray Village Hall, 10.00am-11.00am, Mixed ability
Eaton Bray Village Hall, 11.15am-12.00pm, Equipment
Email: [email protected]
www.BodyBoostuk.co.uk
Source: Focus, Octber 2008
---
Eaton Bray Parish Council is supporting the Dunstable Branch of the "Royal Air Forces Association" led by Rita and Reg Hedgecock, and we ask if you the parishioners could also do your bit to help.
All you need to do is get a box (shoebox size) and fill it with items that would be of use to our serving service service men/women. As Cllr Rick Brand, Warrant Officer (Retired) RAF. ATC said, "Anything that you can put into your box [suggestions below] will be very much appreciated by our servicemen/women, and will bring some small amount of comfort to their lives. You do not have any idea how much an Andrex Toilet Roll means when serving in a location such as Afghanistan, or a Razor, soap etc. And please remember to write a short note or a card to say who you are, and your location back home, so these guys can at least thank you."
Suggested donated items: Andrex Toilet Roll, Small Packs of Biscuits, Any small toiletries (Razors, Sachets of Shampoo, Face Flannels, Sachets of After Shave etc), Chewing Gum, Raisins, Peanuts, Lightweight Paper Backs, Lightweight Puzzle Books, Biro Type Pens, Oxo Cubes, Sachets of soup, Sachets of Flavoured Hot Drinks (Chocolate, Maltesers, Galaxy etc), Dominoes, Small Travel Games, Wind up Radios/Torches, Disposable Cameras.....
"Remember, it is the things we take for granted that shows them we really care"
Please return your completed box (not sealed) to: Mrs Head, Parish Clerk, 20 Good Intent, Edlesborough, Dunstable, Beds, LU6 2RD.
Thank you for your support.
Source: Focus, October 2008
---
Eaton Bray are champions of the Four Counties League. Since its inception in 2001, the club has won the league four times, but not for the last four years. Recently the trophy has been on an extended loan to other clubs before Andy Norris secured the division one title at his first attempt. Andy's tougher style of captaincy has worked perfectly, putting the team ahead of individual performances, including his own.
Winning the championship wasn't without difficulty, indeed the club suffered the ignominy of losing a match by 300 runs, being bowled out by 32 by the eventual runners-up New Bradwell. This was the biggest defeat in the club's and league's history!
The season was one of two halves. In the first part Wes Hoskin, James Flecknell and Gary Ellerton bullied most teams into submission with bat and ball. However in the latter stages of the league programme the games got tougher with Eaton Bray batting second. There were three almost identical run chases that Eaton Bray made difficult.
The highlight of the season was the game against Newport Pagnell, when chasing 164 Eaton Bray had been reduced to 77 for 6. All-rounders Gary Ellerton and Lee Bearton beat the opposition single handedly (sic). In two other games Paul (Chopper) Harris showed his maturity by batting throughout the innings and scoring 2 unbeaten half centuries. Nick Pearson chipped in just at the right time against Cublington. But perhaps the best and most valuable innings was played by Josh Peacock in the last game of the season. Josh scored his only half century of the season in that game. It was a match, and championship winning innings full of champagne shots.
The club wishes to share its success with everyone that helped throughout the season. A BIG thank you to; sponsors, weed sprayers, 100 club owners, cleaners, supporters, tea ladies, groundsmen and to all the suffering wives and girlfriends!
-- MJ
---

Back row; John Salmon, Darren Kerins, Josh Peacock, James Flecknell, Wes Hoskin, Dave Hopkins, Gary Ellerton
Front row; Michael Jarrett, Nick Pearson, Andy Norris, Paul Harris
Source: Focus, October 2008
---
Well there I was just thinking now that we are past the Carnival perhaps life would get a little quieter, so carried on for a few days just enjoying the beautiful weather, when I suddenly remembered that the deadline for Focus was upon me. A quick bit of writing, send it to Sally only to find that I was two days late and the publication had gone to bed. (he means been put to bed) See how I have picked up these publishing terms since I have written these articles!
So here I am making sure that I get this month's entry in, on time. Those of you who have visited the hall in the last few weeks will have noted a lack of a kitchen and lot of mess in the meeting rooms and storage areas. Well, by the time this is published, that should all have been sorted and the hall will even have the new partition in place.
If for any reason that is not the case there will be a very sorry builder who will be facing the wrath of our illustrious chairman! My money is on the job being finished on time.
That being the case, let me just remind you of the Quiz which is on Saturday 11th October. 7.30 kick off and includes a great supper and fun event for only £8. Our main advert is somewhere else in Focus and the first person to ring me to tell me the exact page will get two free tickets. Hope to see you all there.
You know I have been making that offer for at least two years for every event we hold. It is a genuine offer but nobody has ever rung me up, so go ahead and try and win these tickets!
Our Race Night is being postponed due to unforseen circumstances but I will be writing later to tell you what else is going to happen in the next few months. For information or bookings for the Quiz contact me, Ross.
Source: Focus, October 2008
---
"GONE FISHIN' - INSTEAD OF JUST A-MISSIN'."
Do you remember those halcyon days when armed with a jam jar and fishing net, you took off to the nearest pond or stream to fish for minnows or sticklebacks, or newts; or maybe to collect frogspawn to make a pond of your own in an old washing-up bowl.?
I was so reminded of those days as I walked along the canal bank at Leighton Buzzard and saw today's fishermen. They had large umbrellas, to ward off rain or sun - little seats to sit upon - keep nets for their catch - boxes and cans full of bait - not for them a worm or two from the garden - and the rods - of differing size and weight, with elaborate hand made flies.
How different from mine; a bean stick, with a bag on the end, made from an old net curtain. Yet the excitement of the catch was equal in both cases.
Some while ago I visited Israel, and went on board a fishing boat on the Sea of Galilee and watched the fishermen throw the huge nets into the water;- they still used the same technique as did the fishers of Jesus' time. The methods used were either the casting net or the drag net - though some were caught by the fishing hook. (Matt. 17 : 27)
Fish, called dag, in Hebrew, abounded,in the lakes in the valley of the Jordan. So no doubt the Hebrews were familiar with many species, although no fish are mentioned in either the old or the new testament by name.
It was from the fishing industry that Jesus called his first disciples; Simon, (called Peter), Andrew, James and John, - it was in a fishing boat that He rebuked the wind and waves. He fed the multitudes, twice, with fish and bread. Tribute money was found in the mouth of a fish; and He ate broiled fish with the disciples after his resurrection. He told the disciples to cast their net on the right side of the boat after a fruitless night of fishing - they did, and caught so many fish that they couldn't pull it in!
When he called to Simon and Andrew as he walked on the shore of Galilee, he saw that they were fishers and said "Follow me, and I will make you fishers of men". We are still called to serve Jesus, even today; if we accept him as our Lord and Saviour we have hope for our future.
"Those first disciples heard and trusted God's word - If we believed as they believed, great grace would hallow every deed."
Now where's my purse - for I think 'twill be cod and chips for tea!!
Diary Date...
Harvest Festival...October 5th. 11am.
Thanksgiving Praise Meeting Supper and sale of produce October 6th, 6pm.
Source: Focus, October 2008
---
The Panto 2009 A Space Oddity
By the time you read this, all the parts for next years production will have been cast and the Director will be polishing her whip in preparation for an intense series of rehearsals to hone the actors and actresses into the finely tuned machine known as Edlesbray Players.
If you would like to keep an eye on what's happening, please check our website www.edlesbrayplayers.co.uk.
We still have vacancies for support staff for costumes, make-up and scenery so if you fancy helping, contact Pete or Ronnie.
The important dates for your diary next year are Wednesday to Saturday January 21st to 24th 2009. So keep at least one of these dates free.
We may be having a special fancy dress opening day party on the evening of Wednesday 21st so if you want to get into the spirit of things keep that date free. More information will be posted on the website nearer the dates.
Source: Focus, October 2008
---