Archived News - Music
Celebrate Christmas with Eaton Bray Parish Council
Enjoy... Christmas Carols & Brass Ensemble Around The Village.
Friday 23rd December 2016 - From 7:30pm
To help us all get in the Christmas spirit, the Parish Council have again arranged for the brass ensemble to play Christmas Carols around Eaton Bray on the evening of the 23rd December.
The evening commences from 7:30pm at Three Corners moving to Market Square/White Horse at 8:15pm.
All adults & children are urged to come outside and have a good old Christmas sing-a-long.
(song sheets will be available but please bring your own torch/lantern)
Celebrate In Style
---
Celebrate Christmas in Eaton Bray
The Parish Council have once again organized for the Brass Band to visit the village for an evening of Christmas music on Friday 19th December 2014.
The evening commences from 7.30pm at Three Corners/Medley Close, moving to Market Square/White Horse - finishing at around 9.00pm.
A wonderful way to celebrate Christmas in the parish.
---
---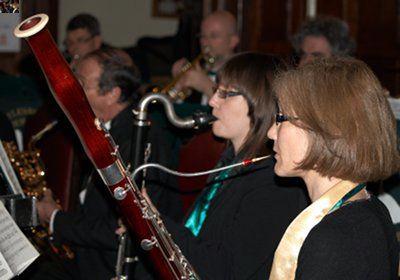 We have received the full programme for the concert from Aylesbury Concert Band and it looks terrific. As well as New Year favourites including the Trish Trash Polka, The Blue Danube and the Radetzky March the programme includes the Florentina March by Fucik, The Barber of Seville goes to the Devil by Jacob, Crazy for you by Gershwin, Big Country by Moross, Dargason from Suite in F by Holst, Disney at the Movies and Farandole by Bizet. You may not recognise the titles but these are splendid, well-known and popular pieces that you are sure to enjoy.
All this wonderful music played by one of the country's top Concert Bands – Silver Medal winners in the National Competition in 2013. Tickets are £7.50 from the Box Office on 01525 222283 and, don't forget, accompanied children are admitted free. And the timing of the concert is designed to enable us to get home in the daylight. We do look forward to seeing you.
---

Bedford Town Concert Brass Band, plus the choir "Alive and Singing" present a concert for Oxfam as part of the Oxjam Leighton Buzzard festival on Friday 8th March.
Starting at 7.30pm, the venue for this concert is St. Mary's, Eaton Bray. Admission £5 adults, £1 concessions. All proceeds for Oxfam.
Music will range from Bach to Tom Jones, so a night of top entertainment is assured!
For more details on this and other events, see the Oxjam Leighton Buzzard website.
---
We are looking for local acoustic musicians to take part in the Music Festival which is again to be a part of the St Mary's Open Gardens Day on Sunday 13 June 2012.
There will be a PA system and keyboard provided if necessary. All music must be live - no backing tracks allowed!
If you would like to be considered for a half hour slot, please contact Barbara Morton.
Source: Focus, May 2012
---
Local group Paradox will be playing live at Eaton Bray Village Hall on 19th May 2012 from 7pm til midnight. You can expect a lively selection of music covering many genres including rock, soul and country from the 1960's up to the current day.
This group has a large fan base established. Don't miss the opportunity to see them live and support your local Lions club at the same time.
Entry tickets £10.00 bought in advance, £15.00 on the door.
Please contact Rachel on 01525 229656 or email [email protected] for more information.
---
Music at St Mary's
Handel's
MESSIAH
Performed by The Linsdale Singers
St Mary's Church
7.30pm 19 May 2012
Box Office open from 1st Feb: 01525 222283
Tickets: £7.50 & £10 (Numbered seats)
Source: Focus, February 2012
---
The new Central Bedfordshire Music Service has been launched - with a new "competitive" pricing structure starting in September. The local authority hopes that the new package will strengthen opportunities for group learning, and are aiming to increase the minimum number of guaranteed music lessons in schools from 30 to 33 a year.
The cost of attending Leighton Buzzard Music Centre, and other similar facilities in Central Bedfordshire, have also been set to ensure that more youngsters will be able to use them.
The council has redesigned the former Bedfordshire Music Service and is operating it on a cost neutral basis as part of the response to its budget challenge. This has allowed for a reduction in lesson fees again.
Councillor Mark Versallion, executive member responsible for children's services, said: "The vision of the service is to give children and young people the opportunity to become the best musicians they possibly can."
For revised lesson fees and charges, which will come into effect in September, visit www.inspiringmusic.co.uk
Summer Youth Music Courses will be playing on over the school holidays with more than 300 young musicians taking part. For the course and concert schedule, see Summer Youth Music Courses.
---
Central Bedfordshire Council is developing fresh thinking as it prepares for the launch of a new Music Service later this year.
Government grant reductions have required the Council to reduce its costs by £19.2m during 2011/12. Redesigning the former Bedfordshire Music Service and operating it on a cost neutral basis is part of the Council's response to its budget challenge.
"We want to make sure that Central Bedfordshire children can continue to develop their musical potential so we've been consulting with young people, their parents and schools.
"Following this we have reconfirmed our commitment to the four Music Centres in Ampthill, Biggleswade, Dunstable and Leighton Buzzard" said the new Executive Member for Children's Services, Cllr Mark Versallion.
Cllr Versallion also said "Originally we planned to reduce funding to the music centres and we expected that at least one of them would need to close. However, as a result of a further review of our overheads and back office costs, we've been able to extend funding to all four of the music centres in the short to medium term. This gives the Music Service time to work with its customers and potential partners to work up our new service programme before the national introduction of regional hubs in 2012.
The Council has been allocated a reduced grant for music provision from national government of £394,000. With this it will introduce a new and more flexible model of music tuition. At the moment fees have been high from April but by working more efficiently, it is hoped that fees will reduce for parents as the year goes on and more young people access the service.
Central Bedfordshire Music Service will be launched in July, supported by a newly designed marketing plan. There will be clear goals to put a greater focus on advertising existing and new activities and responding more flexibly to the identified needs of the young people and parents.
As part of the service re-design a series of workshops are being held with schools, external partners in the business and the voluntary sector, pupils and parents to join Central Bedfordshire Council in developing plans for the future.
"If we work together we can find ways of not only protecting these important services, but to develop them for the talented young musicians of current and future generations" added Cllr Versallion.
For further information please contact: Tom Skinner on 0300 300 5738.
Source: Central Bedfordshire Council News Release
---
Musical students in Bedford Borough will still be able to hone their skills, but those living in areas governed by Central Beds Council, such as Eaton Bray, could miss out.
Bedfordshire Music provides instrumental tuition and other music opportunities in the county and is a shared service between Central Beds Council and Bedford Borough Council.
While Bedford Borough Council has protected access to music tuition for local school children, Central Beds Council is considering plans to cut all its funding for the shared service.
The Mayor of Bedford Dave Hodgson said: "I will simply not allow Central Beds Council's unilateral decision to cut all its funding for the music service to damage access to this excellent service in Bedford Borough.
"We are protecting music tuition in the borough, giving all children and young people the chance to enjoy music and the positive impact it can have.
"Access to high quality music tuition and further opportunities in music must not only be for the children of the very well off."
On a weekly basis, it provides lessons and area music centre activities for children, young people and adults.
Councillor Anita Lewis, portfolio holder for children's services at Central Bedfordshire Council, said: "Bedfordshire Music is currently a shared service between Central Beds Council and Bedford Borough Council.
"The shared service agreement is due to expire at the end of March and we are moving forward with a proposal to disaggregate the service from Bedford Borough at the end of the summer term.
"The future provision of a music service in Central Beds is subject to review and consultation. The consultation will be undertaken with schools and interested parties and will consider alternative ways of delivering a music service provision to the children and young people in Central Beds."
Read the full article on the Bedford Today website.
---
The Friends of Bedfordshire Youth Music website has further information about the proposed cuts by Central Bedfordshire, along with details of how you can show your support to keep Bedfordshire Music supplying services to both councils.
Source: Bedford Today
---
Central Bedfordshire Council, which hosts the Bedfordshire Music Service, has announced that they are proposing to cut the funding it currently gives the service to zero during 2011 and intends to reorganise and disaggregate the Music Service.
Consequently, Bedfordshire Music Service will cease to exist in August 2011. It is planned that Bedford Borough and Central Bedfordshire will each develop their own separate music service provision arrangements from September 2011.
Please email or write a letter to your councillor in protest at this cut in funding and the disaggregation of the Bedfordshire Music Service, and show your support by signing the FBYM petition and attending the meeting on 8th February.
You can also download a copy of the letter sent to Friends and Schools detailing how you can help.
---
Central Bedfordshire Council has recently announced that funding to Bedfordshire Music is to be cut to ZERO from April 2012.
More details at Campaign for Bedfordshire Music and in the letter below from Catherine Rose.
This would be a sizeable chunk of the Bedfordshire Music budget being cut and would mean either increases in tuition costs or presumably the loss of some groups or music centres.
The good news is that none of this is set in stone yet, so you can do your part by writing to your local MP to let them know how important the Bedfordshire Music service is.
If you've ever benefited from using the Bedfordshire Music service (through its ensembles, Saturday morning music centre, music lessons, instrument provision, etc), or know someone that has, then please write to your local MP and help raise the profile of the Campaign for Bedfordshire Music.
---
Dear Friends,
If you are thinking of writing a letter in protest at the 100% cut in cash funding to the Bedfordshire Music Service planned for April 2012, PLEASE CAN YOU DO SO BEFORE 12TH NOVEMBER?
I've just realised that the Council is currently reviewing the music service and will have finished this process by 15th November, so we need to get their attention before then.
Anyone needing more information or doesn't know what I'm talking about, please visit http://michaelerose.moonfruit.com/#/campaign/4545173370.
PLEASE SEND THIS ON to anyone you sent information on to before.
I'm particularly keen to get this to PARENTS, STUDENTS AND TEACHERS but I do not have individual emails so please keep it going viral!
The website has had 1337 visitors since it went live on Friday lunchtime - keep up the energy!
Thank you!
Catherine Rose
---
Update: There are further comments on FBYM and Facebook.
Source: Michael & Catherine Rose
---
Join Pete Langford and Butch Baker of the Barron Knights for an entertaining evening of lively music, chat about the group's history and lots of laughs.
Come early and join the boys in the bar for a chat!
Following the interval, the stage will be taken by Mr Kite's Benefit Band (Hertfordshire's Premier Charity Group) playing dance music from the 50s to the present day. Mr Kite's Band only play for special causes and we are privileged to have them in Eaton Bray to support Iain Rennie Hospice at Home.
The event takes place on Thursday 23rd September at Eaton Bray Village Hall. Doors open at 7.30pm for 8pm start.
Tickets from Beryl Bishop or direct from Iain Rennie Fund Raising Team on 01442 890222. Tickets priced £15.
Kindly note: Pete, Butch and Mr Kite's Band have all donated their time in order that all proceeds from this event will benefit Iain Rennie.
Source: Focus, August/September 2010
---
Saturday 5th June 2010, 7.30pm
Church of St Mary the Virgin
High Street, Eaton Bray
Bedfordshire
Performers:
Violins: Vaughan Jones and Louise Bevan
Viola: Adrian Smith
Cello: Tony Woollard
Step into the village church of St Mary the Virgin, Eaton Bray and enjoy a light programme of popular classics representing different countries throughout the world. Like all journeys, there will be a few suprises along the way, but works will include:
Brahms: Hungarian Dance no. 6
Holst: St Pauls Suite
Grieg: Anitras Dance
Puccini: Humming Chorus
Borodin: Nocturne
Albeniz: Tango
Mozart: Rondo Alla Turca
Tickets are £10 (full) or £8 (concessions)
Entrance includes a glass of wine and nibbles during the interval
Tickets are available from Robert & Joan Calder 01525 220872
Profits raised from the concert go towards the upkeep of this historic church
---

Eaton Bray music lovers hope to be blown away this winter when a talented wind quintet plays the village hall.
The musicians are members of Orchestra Of The Swan, a groundbreaking group frequently praised in The Telegraph and The Guardian.
This family friendly concert forms part of Central Bedfordshire Council's Rural Rhythms Season.
The programme is being run to bring high quality music to audiences across the county. Gershwin favourites such as The Man I Love and Nice Work if You Can Get It will be combined with classics from composers like Profokiev and Patterson in what promises to be a stunning musical medley.
The performance is on Saturday January 30 at Eaton Bray Village Hall.
Tickets are available from the central box office 01234 219519. A family-ticket will cost £19.
---
Carmen will transport you to a world of Spanish gypsies, soldiers, bullfighters and smugglers and is one of the most famous operas of all time. A tragic love story with an outspoken, brash female lead, it is filled with musical highlights, including the famous Habanera and Toreador songs.
1 September - 6 September 2008, 7.30pm
University Theatre, University of Bedfordshire, Polhill Campus, Bedford
Tickets £10 and £8 from Central Box Office Bedford 01234 269519
Group discounts available
Excluding 3 September which will be the successful schools' tour 'Fairytales without Fairies' with performances by acappella singing group Peculi8 Tickets £5, group discounts available
For more details, visit www.bedfordshiremusic.com
Source: Bedfordshire Music
---
An ancient curse, weird women, strange rites, dream girlfriends, a deadly serpent...
Dare to watch Bedfordshire Youth Opera in their foreboding production of Mozart's The Magic Flute, full of eerie affairs and mysterious events.
The new Bowen West Theatre, University of Bedfordshire, Polhill Road Campus, Bedford.
Wednesday 5 - Friday 7 September 7.30pm
Saturday 8 September 2.30pm and 7.30pm
Tickets £10 and £8
Group discounts available
Special under 18s offer:
open dress rehearsal Tuesday 4 September 7.30pm for only £3
Call Central Box Office for tickets 01234 269519
---