Heritage Open Day, 11 September 2021
Posted on August 29, 2021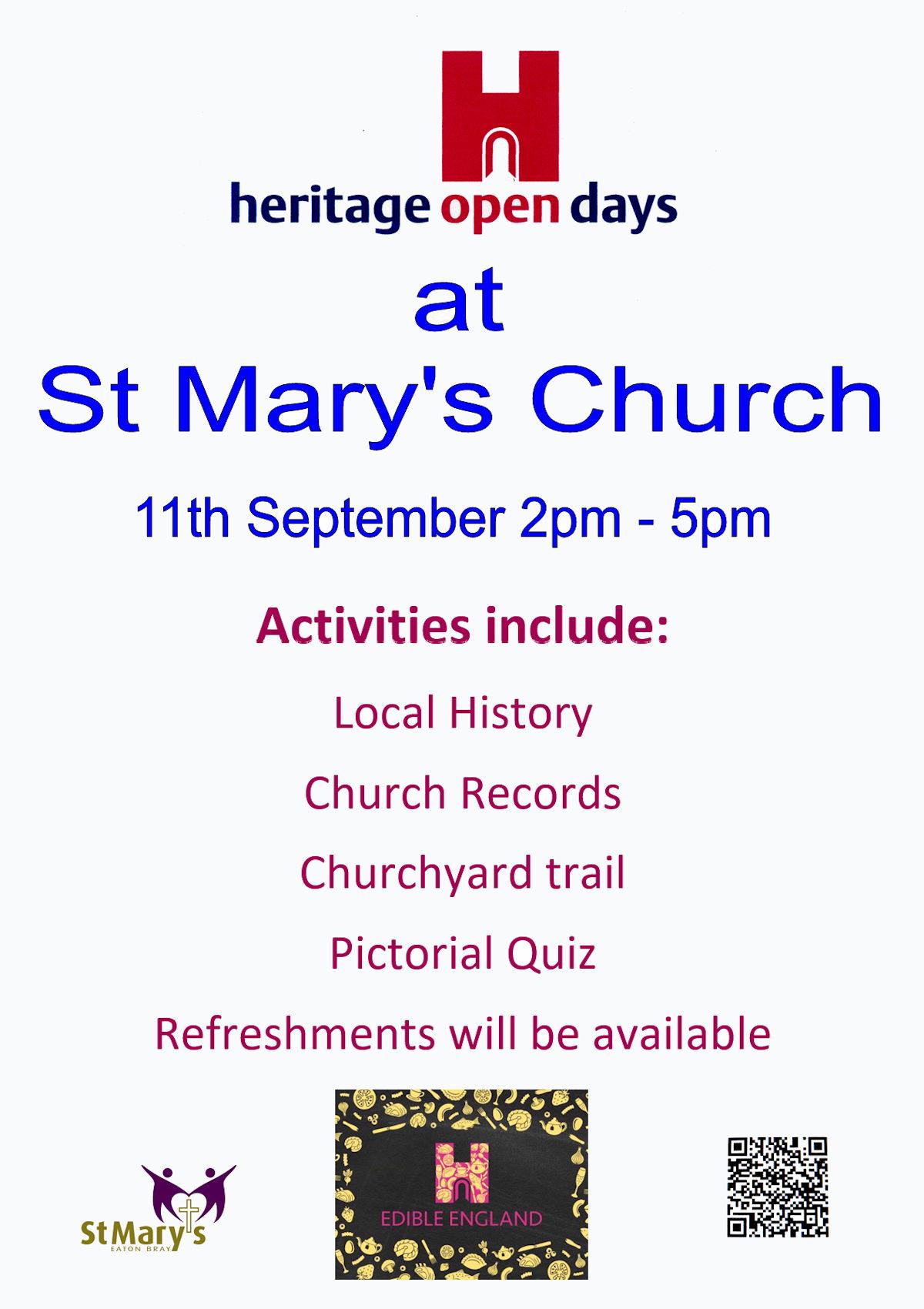 Heritgage Open Day
at St Mary's Church,
11 September 2021 2pm-5pm
Activities include:
Local History
Church Records
Churchyard trail
Pictorial Quiz
Refreshments will be available
St Mary's Eaton Bray
Come and join in the fun and learn something new about where you live.
This year, St. Mary's Church, Eaton Bray is holding a free 'Heritage Open Days' event.
Saturday, September 11th 2021, 2-5pm
'Edible England' is this year's theme. Discover all about the Aylesbury Prune, or prune plums as they were otherwise known. There will be quizzes, a churchyard trail, activities for children plus more.
Were you or your ancestors baptised or married in St. Mary's, Eaton Bray? The church records will be available for you to look up special events from the past.
Refreshments will be available to round off an entertaining afternoon.
Why not combine a visit to St. Mary's Church, Eaton Bray with a visit to St Mary's, Edlesborough for more foodie fun.
We look forward to seeing you
---
HODS offer free entry to a wide range of attractions around the UK, giving you an opportunity to discover local treasures and national gems that might not normally be open to the public to explore. W: heritageopendays.org.uk
For the first time ever, both of our St. Mary's will be part of this dynamic programme of over 5,000 events. HODS is England's largest annual festival of history and culture, and runs for ten consecutive days from the 10th to the 19th of September. Both of our Churches will be manned on Saturday 11th September. Please see the above poster and information about events at Eaton Bray.
---
St Mary's Edlesborough
The Friends of the Church on the Hill, Edlesborough will be setting up on Friday September 10th. We will be manned on the Saturday and Sunday 10 - 4pm, hoping that on the Sunday afternoon we can have our Bell Ringing team, followed by a "Songs of Praise".
Each year HODS has a national theme and this year it is "Edible England". At the time of writing, one of our local beekeepers will be on hand with advice on the conditions and equipment required for healthy productive bees within the ecosystem. We are talking to a local business, who may be able to add to the Edible England' theme. There may be examples of local foraging opportunities and there will be pictures and stories of our village history, and the families that lived here.
As well as enjoying all that the Church building has to offer it is also an opportunity to explore the Churchyard; it is much bigger than you might think. We have retained our wildflower banks and they should be a picture at the time, hopefully alive with bees and other insects.
We will add our event to our website: edlesboroughchurch.org.uk
If you are a Facebook user please search for us: Friends of the Church on the Hill, Edlesborough and like our page. See you in September.
Friends of the Church on the Hill
---
Comment on This Article:
All HTML, except <i>, <b>, <u> will require your comment to be moderated before it is publicly displayed.
If you would like your own avatar displayed, read about comment avatars.