Travelling Crib
Posted on November 3, 2005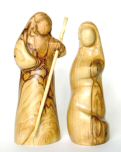 An interesting Advent idea in the November edition of Focus, the parish mad for Eaton Bray, Edlesborough, Northall and Dagnall, caught my eye. Apparently, there's an old Mexican custom that in Advent, people dressed as Mary and Joseph travel around their villages knocking on people's doors to see who will offer them hospitality.
Last year, the Mother's Union adapted the custom for a travelling crib idea in villages near Dunstable, which will be run again this year.
The plan is that Mary and Joseph crib figures, carved from olive wood by Christians in Bethlehem, spend a night in local homes willing to offer them a welcome.
A short service is held on their arrival, and a candle is lit to signify that they have a home for the night. They return to church on Christmas Eve for the Candle Service.
A form has been put up on the notice-board in St Mary's Church, Eaton Bray so that people can sign up if they want to offer a home for a night for the travelling crib.
If they have more offers of hospitality than the number of Advent days, they will be looking at providing homes for the Three Wise Men.
At a time when we're all dashing around madly present-buying, what a lovely way to remind everyone about the true meaning of Christmas.
Source: Gazette Gossip, with Anne O'Donaghue, Dunstable Gazette, 2 November 2005
---
Comment on This Article:
All HTML, except <i>, <b>, <u> will require your comment to be moderated before it is publicly displayed.
If you would like your own avatar displayed, read about comment avatars.