Vicar of Eaton Bray to retire in March
Posted on November 15, 2008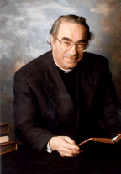 The Reverend Malcolm Grant, vicar of St Mary's Eaton Bray, has notified the Churchwardens and PCC of his intention to retire from full-time ministry at the end of March 2009, and will be resigning as Vicar of the Parish from that date.
Source: St Mary's Eaton Bray
---
Comment on This Article:
All HTML, except <i>, <b>, <u> will require your comment to be moderated before it is publicly displayed.
If you would like your own avatar displayed, read about comment avatars.