Eaton Bray needs £200,000 to finish church repairs
Posted on May 24, 2007
Villagers in Eaton Bray have launched a fundraising campaign group to preserve the village church.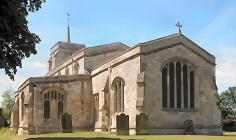 More than £200,000 has already been spent on stonework and the roof of the historic St Mary's Church. A similar sum is needed to finish off the roof and restore the building's Victorian floor tiles.
Peter Bennett, of the St Mary's stewardship committee, said generations of local people had been responsible for the upkeep of the 800-year-old building and it was vital that it continued.
"In the 21st century, it is no less difficult than it was in the 15th century to find the money needed to carry out essential repairs," he said.
The Friends of St Mary's are now hoping that local people will join them in raising funds to preserve an important part of the area's heritage.
Canon Malcolm Grant, the vicar of St Mary's, warmly welcomed the new venture. He said: "We hope to create a network of Friends who will help to preserve this beautiful and historic church which has been at the centre of the community for 800 years."
Anyone wishing to help the campaign should contact The Friends.
Source: Leighton Buzzard Observer, 22 May 2007
---
Comment on This Article:
All HTML, except <i>, <b>, <u> will require your comment to be moderated before it is publicly displayed.
If you would like your own avatar displayed, read about comment avatars.